Even though Philips Hue and Amazon Alexa often integrate without any issues, sometimes these products will not work together well.
Philips Hue (a subsidiary of Signify N.V.) specializes in manufacturing smart light products and Alexa (produced by Amazon) deals in smart speakers, alongside other smart home products. As a result, being able to integrate Hue with Alexa would make sense – but let's take look at some common cross-device issues that may arise when you pair these products.
1. Bulb/Room Naming Confusion
Some people make the mistake of giving their smart lights, and the rooms where those lights are installed, the same name e.g "Bathroom", "Kitchen", "Hallway", and so on. When setting up your Hue-Alexa integration for the very first time, be sure to name the bulb(s) and the respective room(s) differently. 
For example, if the name of the room is "Bedroom" the name of the bulb(s) must not again be "Bedroom". Otherwise, Alexa will have trouble implementing your command when you say, "Alexa, turn on my bedroom bulb(s)," or "Alexa, turn on my bedroom light(s)."
Instead, give the bulb(s) a more precise name e.g "Bed Bulb(s)" or "Bed Light(s)." That way, Alexa will know exactly what you mean when you say, "Alexa, turn on my bedroom lights" or "Alexa, turn on bed light 2"
Solution: If you are experiencing this issue with your Hue-Alexa setup, simply delete everything and set up the integration once again, making sure to name your bulb(s) and the respective room(s) differently.
2. Alexa Thinks There are Light Bulb Duplicates
Sometimes Alexa strangely behaves like in the first case scenario where it replies; "A few things share the name 'AB, or C'; which one did you want?" when you instruct it to perform a function. This can happen despite having named the room and the bulb(s) differently. It usually occurs due to a few reasons including but not limited to the following;
A bug that's interfering with Alexa's intelligence. 
When Alexa did not hear you well such that it confused one word for another that you've assigned for another task.
Solution: Try updating your software. If that doesn't resolve the issue, rename your devices with words you think the A. I can hear well easily. Also, try speaking clearly to it. 
3. Hue Routines Can't Be Triggered in Alexa
Your Hue-Alexa setup allows you to create routines so that the software can automatically perform specific tasks at different times without your instructions. For example, you could create a routine where it automatically turns on and off the lights every day at 7 pm and 6 am, respectively.
You could also set up one where your smart home system dims the lights at a specific time each night to cause you to sleep, and brightens up the room each morning to help you wake up. In other words, the Hue-Alexa combination supports many kinds of routines.
But sometimes you'll find that some routines are simply Hue-specific such that they aren't supported by Alexa. This is especially true with routines that are triggered with Hue's motion sensors. Unfortunately, such routines may or will not be automatically triggered in Alexa. 
Solution: Unfortunately, there's no way around this issue. The best thing you can do is to avoid special routines that Alexa can't automatically trigger, or accept that you will have some routines in the Hue app, and others in the Alexa app.
4. Hue "Color Wheel" and Alexa Limitations
One of the reasons why Philips Hue bulbs are hugely popular is their ability to change colors and shades to create different ambiances or effects that suit different moods and styles. These color options go far beyond your basic green, blue, red, or yellow. Through the Hue app, you can make your smart lights change to more than a million colors and shades. 
Notably, the Hue app offers a feature known as "Color Wheel" or "Color Picker":
It provides more options than Alexa when it comes to color and shade options that you can try out. Unfortunately, Alexa only offers a much smaller subset of color options: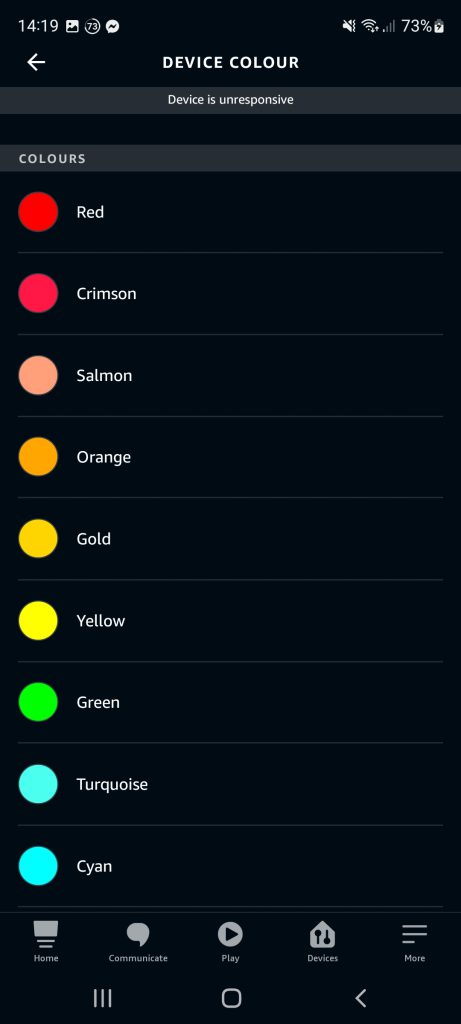 Therefore if you want to setup routines with precise colors, the Alexa app might not work well enough for you. Alternatively, you can setup a scene in the Hue app, and then select this scene in the Alexa app. But this solution can be clunky and slow, due to the next issue we'll discuss.
Solution: If you insist on enjoying fully the amazing effects of Philips Hue's Color Wheel, you'll have to separate your smart light setup from Alexa. If you have to include both the Hue and Alexa apps in the setup, you'll need to use a feature within Alexa called "Scenes." It helps you get all the Hue app's Color wheel smart light colors and shades, but only up to a certain extent.
5. No Scenes Filter In Alexa
Just like Alexa, Philips Hue features Scenes, which allows you to set your smart light to a specific color as well as brightness setting to suit any given mood or style. Now, in the Hue app, scenes are easier to use and manage than in the Alexa app, thanks to Scenes Filter.
This feature organizes the various smart light scene options according to room and bulb. Since Alexa lacks anything similar to this, it can be difficult to utilize and manage the scenes feature if you pair Philips Hue with Alexa. After all, the list can quickly grow to dozens or even hundreds of items:
Solution: Unluckily, Alexa hasn't come up with a way that enables users to manage smart light scenes seamlessly. The only thing you can do here is to separate your smart lights from the Alexa app if you want to enjoy scene lights without having any difficulty. 
Final Thoughts
Philips Hue and Amazon Alexa manufacture cool products that you can pair together to have a fully-fledged smart home. These include smart lights, doorbells, smart speakers, indoor cameras, smart thermostats, and so on. Each brand accompanies its products with an app to allow for convenient integration with your smart home setup.
Philips Hue offers the Hue app and Amazon provides the Alexa app. By integrating the two apps, you can easily pair most devices from both manufacturers and have them work together just well. 
However, sometimes you'll find that specific functionality that the Hue app offers isn't supported by the Alexa app and vice versa. This can lead to a myriad of cross-device integration issues. As you can see, some of these issues have quick solutions to resolve them, whereas others don't have any and the best way to fix them is to use some functions on the Hue app, away from the Alexa app.