Smart LED light strips offer lots of uses and provide several benefits. For example, they can be used in different areas within the house for illumination and decoration purposes. These include your ceiling coving or cornice, the railing or underneath the tread of your stairs, around your shelving, below your kitchen cabinets, and so on.
Notably, many smart LED light strips rely on Wi-Fi as a communication protocol. However, some light strips are ZigBee-based as opposed to Wi-Fi-based. These are better products because this IoT (Internet of Things) wireless technology is arguably more reliable as a communication protocol than Wi-Fi when it comes to the average home. 
Philips Hue, Gledopto RGBWW Light Strips, Slyvania Smart ZigBee Indoor Light Strips, Ajax Online ZigBee Light Strips, and Innr Zigbee Smart Flex Light are good examples of ZigBee-based smart LED light strips. Other examples include different generic products such as PeakLead, YASUI, and GIDERWEL.
More About Philips Hue ZigBee-Powered Smart LED Light Strips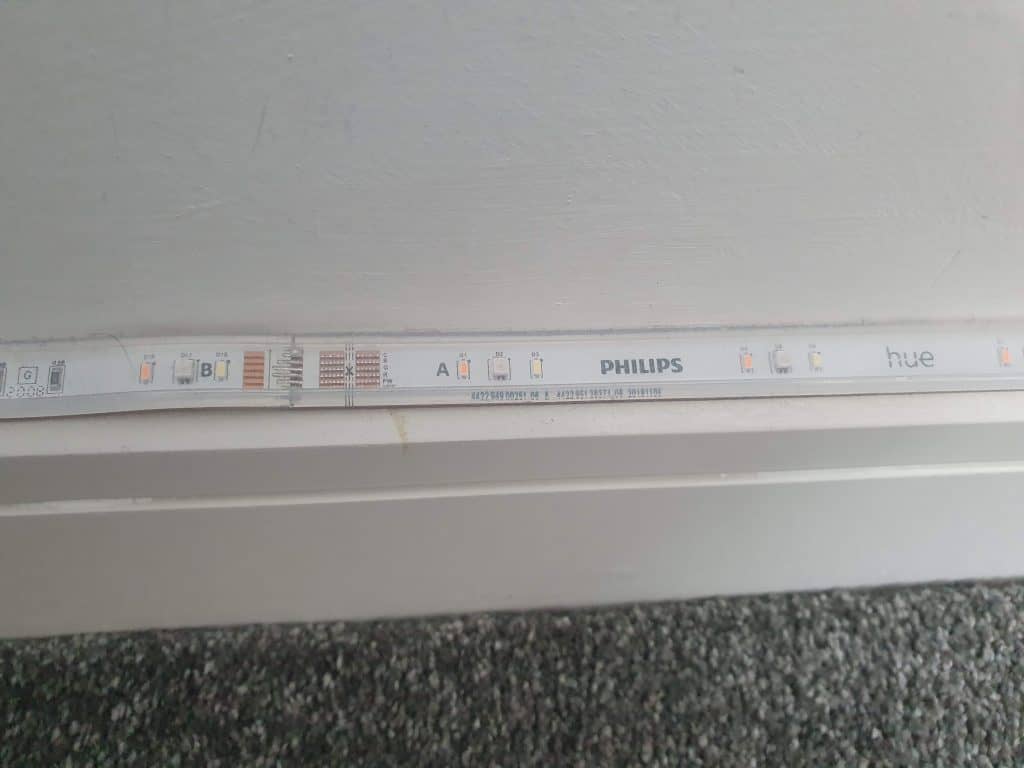 Philips Hue offers a wide range of ZigBee-based LED light strips. The Philips Hue's Lightstrip Plus range gives the impression of the best LED smart light strip that uses ZigBee, at least going by demand, but does it live up to its hype? We'll find out soon enough. 
The overwhelming demand for this product can be attributed to a few things that include the quality of the Hue app, the level of integration with other products, and the brand name. 
However, it's disappointingly a bit wider than average. Its extra wideness can be a problem in circumstances e.g if you're running a couple of Philips Hue Plus light strips in a diffuser channel—a device that helps make light less direct or spread heat across a surface or an area. 
What's more, it's not as good as LIFX Z strips, at least, going by many YouTube reviews. By the way, these are Wi-Fi-based. 
Also, Philips Hue LED smart light strips generally cost more compared to other similar light strips on the market. 
All in all, while Hue smart LED light strips aren't the best light strips out there as you can see, they aren't the worst. These light strips have a pretty good color-matching design. Plus, they generate a fairly good brightness, not to mention that they integrate better with other products compared to other smart LED light strips. 
So let's explore some alternatives, which are all ZigBee-based meaning that you can still pair them with a Hue Bridge and control them in the Hue app.
More About Gledopto RGBWW Light Strips
Mainly available in the European market, the GLEDOPTO RGBWW LED smart light strip works great just as any Philips Hue LED smart light strip. Unfortunately, this product isn't as readily available in America as it is in Europe. But that doesn't mean that you can't purchase it in North America because you can via K2 Home Tech. 
Notably, GLEDOPTO comes pre-wired and bundled with its controllers such that all you have to do is plug and play. The beauty of this product is that it integrates well with other products. You can even control it with your Alexa app or Philips Hue app (if you have a Hue Bridge).
More About Slyvania (Lightify) Smart ZigBee Indoor Light Strips
The Sylvania smart ZigBee indoor light strips are an offering of a company known as "Slyvania" that is rebranding to "Lightify Smart+", by the way. These smart home light strips are fairly well-rated, which makes them a great and cost-effective alternative to Philips Hue strip lights. 
Note: Available are the Sylvania 16′ (4.9m) cuttable version and the 16′(4.9m) non-cuttable outdoor version. The former version can be cut or extended as need be. The latter, on the other hand, cannot be cut or extended as required. It seemingly compensates for these drawbacks by being waterproof and offering quality.
As much as its reviews are generally positive, you should do your research before buying as there may be a few drawbacks to this product that could be a major deal breaker for you.
More About Ajax Online ZigBee Light Strips
Similarly cheaper than Philips Hue LED smart light strips, the Ajax Online smart light strips provide a cost-effective solution to budget-conscious buyers. These cuttable light strips for smart homes offer a longer cutting distance than other strips by up to 8" or 20cm. 
Equally, it's not as readily available in the North American market as it is in the European market. That means you may have trouble finding it at a store near you if you are based in North America. 
More About Innr Zigbee Smart Flex Light
Just like Ajax, Innr is more popular and readily available in the European market than in the North American market. You know what that means if you are in North America. Similarly, Innr's LED smart light strip remains a cost-effective alternative to Hue light strips, thanks to its cheaper price.
Even though it seems fairly popular on European online marketplaces, the reviews are mixed with the product regularly getting below a 4/5 rating. This is a sharp contrast to the Ajax LED smart light strip whose ratings often exceed 4.5 stars. With that said, you shouldn't have trouble choosing between it and its rival product–Ajax. 
Tips To Buy Smart LED Strip Lights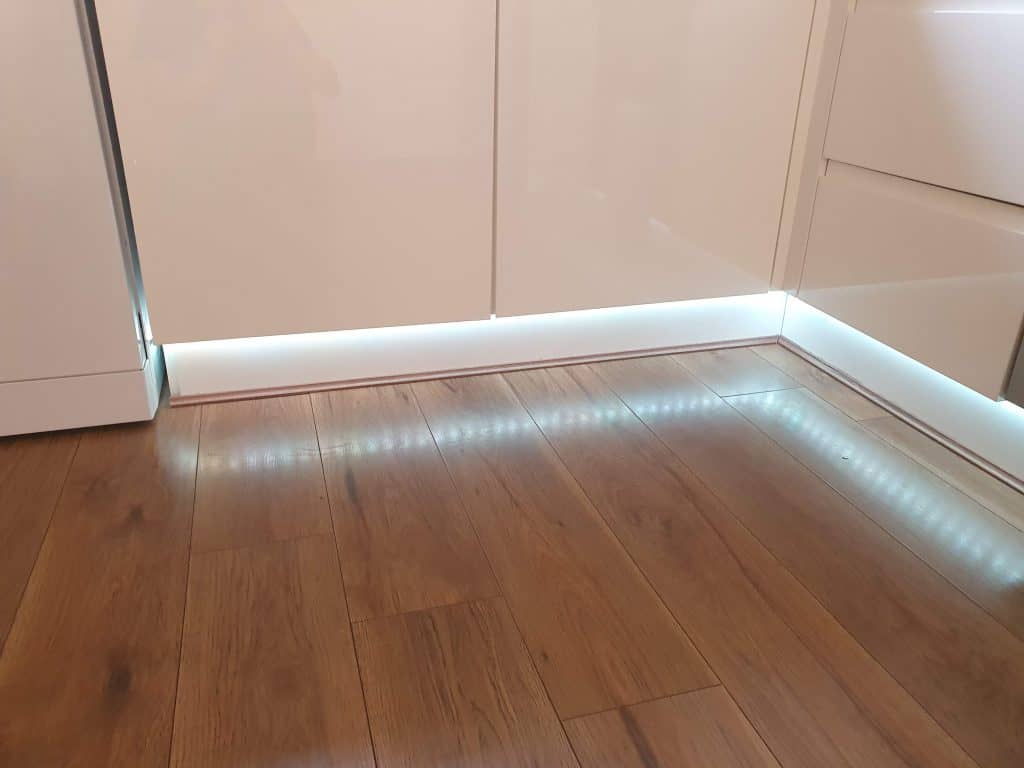 Don't rely solely on online reviews, because some reviews are simply fake. You can use tools such as ReviewMeta to spot fake reviews.
Don't buy a product from a company that does not have any general information online. If the company has no online presence of any sort including social media, it will be hard for you to seek after-sales services should you need one.
Pay attention to the colors/LEDs. Some smart LED light strips contain just three colors or LEDs namely: Blue, Green, and Red. While these colors will work well for many users' color needs, they'll not work so well if you need white hues.

For those types of hues, go for smart light LED strips with a fourth color. Some will have Cold White or Warm White as an additional color to the above colors. Both colors will generate a white LED light. 
Final Thoughts
Many people nowadays use LED light strips to illuminate and decorate their homes. Most of these products are ZigBee-based even though there are a few that rely on Wi-Fi. Philips Hue is known to produce some of the best smart LED light strips. Unfortunately, their products tend to be costlier than other alternatives on the market such as Gledopto, Slyvania, Ajax Online, and Innr Zigbee smart light strips. These products are equally as good as Philips Hue products and that means you don't have to limit yourself to Hue products if you are a budget-conscious buyer.