Ring cameras and doorbells are innovative and versatile security systems that offer homeowners an easy way to monitor their properties remotely and in real-time. They come with built-in sensors that detect motion when someone visits your home and notify you promptly.
However, sometimes keeping track of all the alerts your security cameras generate can be challenging, especially if you lead a busy life. That's when sharing access to your home security cameras makes perfect sense.
Whether you live alone or have a family, sharing Ring camera access is a convenient way to enhance security and keep other house occupants and loved ones informed about what happens on your property.
If you have recently installed Ring cameras or plan to install one, this guide will cover how to share Ring camera access to help you create a safer living environment.
Notably, always share access to your security camera and other security systems with people you trust.
One of the reasons Ring camera systems are becoming increasingly popular is that they allow users to add Shared Users to their accounts. Whatever your reasons, if you want to share access to your ring camera systems, here is how you can invite a family member or a friend, or a trusted neighbor to the system.
You can add a Shared User to your Ring account from any smartphone or tablet where your account is logged in.
Here is how you can share access to your Ring camera system from the Ring app:
Launch the Ring app on your smartphone or tablet and ensure you are logged in.
Tap the menu (three lines in the upper-left-hand corner of the dashboard screen).
Next, tap Devices to see all Ring devices associated with your account, then tap the gear icons (Settings) within the camera interface you want to share access to. This will open the camera's setting menu.
Scroll to find Shared Users and tap on it. From here, you can see all accounts with access to your Ring camera. If you are adding a Shared User for the first time, tap on the Add User icon. The icon should be on top of your screen display for those with existing shared users.
Add the new user by entering their email address. Always remember to double-check to ensure you have typed the email correctly, then hit the OK button. You will then be prompted to toggle all the devices you wish to share.
Confirm the devices you are about to share access to and tap Send Invite.
You can invite anyone to access your Ring camera from any browser. Here are steps to share access to your Ring camera from a mobile or PC browser:
Browse ring.com and log in using your Ring Account credentials
While logged in, open Settings and tap on Shared Access. This will display the "Owner" and any users who have access to your Ring devices.
Under the users, tap on the plus (+) sign, and you will be prompted to enter the new user email.
Enter the email address of the person you want to give access to your Ring camera system, then select the specific camera(s) whose access you want to share.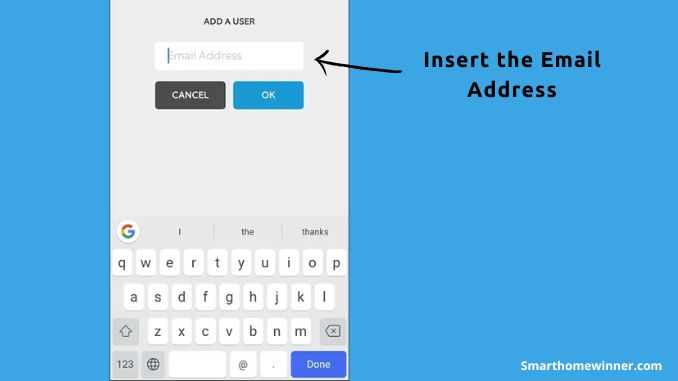 To invite the new user and share access, tap Send Invite.
After inviting new users to access and monitor your Ring camera, they will be notified via email.
The invitation link is usually valid for seven days, so the invitee should accept the invitation and set up their access within this period.
However, you can always invite the same user again if the link expires before setting up a ring account.
To become a Shared User, the invitee can follow these steps:
Open the email from Ring and tap on the invitation link. The invitee will be prompted to sign up or log in. If the invitee has installed the Ring app and has a Ring Account, they can find the invitation under the Control Center
After creating an account, the user will need to tap Manage to open the interface where they can accept or decline the invitation. Tapping Accept will provide access to the shared camera. The Shared User can monitor the shared camera remotely and receive alerts.
Notably, a Shared User can only access live view, view video recordings, receive and answer notifications, and use smart locks associated with the shared camera.
Features like changing or adjusting the settings of the shared camera and deleting video recordings are reserved for the Account Owner for security reasons.
Ring cameras are designed as part of a smart home security system, meaning sharing access to your cameras is a security-sensitive decision. Even so, there are situations when sharing access to your security cameras and other security systems makes perfect sense.
For instance, if you have aged parents, young kids, and pets in your home, giving family members and neighbors access to your cameras can provide additional eyes and monitoring capabilities, ensuring safety throughout, even when you're busy.
Sharing Ring cameras access with loved ones and neighbors you trust can help ensure a prompt emergency response. Besides the ability to keep an eye on your property, this can give you peace of mind, knowing that things won't escalate.
When it comes to sharing access to home security systems, what matters most is who you give permission to monitor your home. Giving responsible and trustworthy individuals access to your camera can enhance security and ensure peace of mind.
Conclusion
Ring security systems are becoming increasingly popular, so it is imperative to know how you can give family members access to the cameras so they can help you with monitoring the home. Thankfully, Ring offers a straightforward way to add Shared User. Allowing others to keep an eye on your property can help heighten security and give you peace of mind. Best of all, you are the only one who can add and remove Shared Users, so there are no worries about unauthorized individuals gaining access to your security system.