Multipoint lock doors are becoming more popular because they are more secure, but smart door locks often don't work with them. Thankfully a few smart locks do exist that work with multipoint doors.
You might think multipoint doors can't have smart locks… or can they?! Well, the answer is yes, they can.. 
The market for multipoint smart locks is still emerging. Nevertheless, more products have surfaced during the past few years. 
With their steady rise in popularity, there are more options you can now choose from. Stick around if you're interested in looking for a compatible smart lock for your multipoint locking system. 
Why You Should Use Smart Locks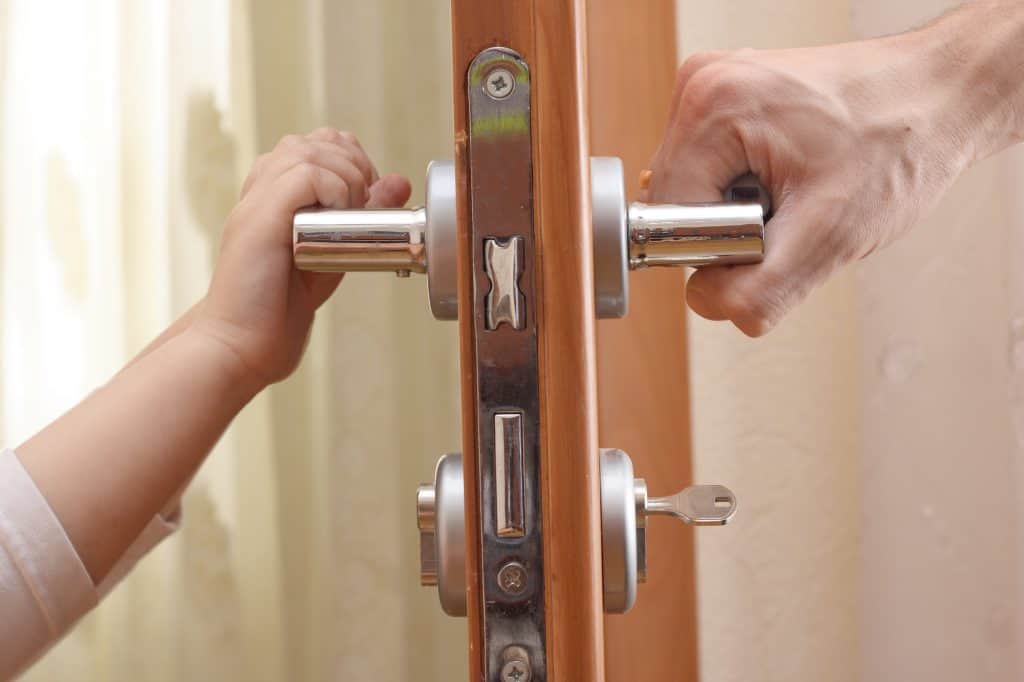 With technology evolving, you're bound to find some new gizmos to optimize your home safety. One of those developing devices is a smart lock. Imagine not digging through your bag to find your keys to lock up. 
You can just tell your home to lock your doors with integrated voice commands. You might be wondering how they work? Well, it's similar to using home assistant software. You can use a Wi-Fi or Bluetooth connection as well as a smart home application to activate your smart lock system. 
Leaving your keys behind won't pose any issues. If you're having guests over and running late, you can remotely unlock your doors for their entry. Check out more reasons below on why you should consider using a smart lock. 
Elevated Home Safety 
At some point in your day, you're probably thinking, did I lock the door? Well, you can safely say goodbye to those mini-heart attacks. Smart locks can lock your door anytime and anywhere you are, as long as you have a connection.
You can add a voice command, PIN, or even fingerprint access to your smart lock. If a home invader is trying to pick your lock, the smart features will detect a disturbance and immediately send you an alert. Some smart locks automatically call the police. 
Increased Access Options 
While you get to decide who enters your home, you also get the added option to decide until when they get access. For instance, if you're having guests over, you can allow them to access your home for a couple of days only. 
You can also make permanent and temporary codes for your friends and family. If you have a babysitter coming, you can provide them with a temporary code of entry, and deactivate it once they leave. 
More Choices Available 
Smart locks aren't as common as you might think. Only about 9% of US households use the system. That being so, there are countless options to choose from. 
Smart lock products range in price, features, and interactions (Wi-Fi, Bluetooth, Home Assistant, etc.) Sometimes smart locks might not be the right fit for you. It could be due to connectivity issues or simply down to personal preference. 
You should consider how much a smart lock would benefit your household before committing to that investment. 
All About Multipoint Locked Doors 
Out of all the doors you've locked or entered, chances are they're using a deadbolt lock. These types of locks are the most commonly found since they're one of the safest. They're more difficult to pick or open through card swipes. 
Multipoint locks offer additional security. They have a three-deadbolt locking mechanism. If someone's trying to push down your door, they'll have a harder time with three deadbolts, rather than one. 
With a three-point system, you might be wondering if you'll be turning three separate keyholes, but the multipoint lock system only has one keyhole that controls all three deadbolts. 
You don't have to limit their use to your front door alone. Installing a multipoint lock at your patio door is always a good idea to vamp up your home security system. 
Although multipoint locks make for an exceptional addition to your door security, they do have their cons. Installation can be difficult and pricey. It's also challenging to find compatible smart locks compatible with multipoint locks. 
Nonetheless, some companies do sell them. Read on to find out more about them. 
Multipoint Smart Locks to Consider 
Smart locks are still on a developing pathway to gain a dominant foothold over households. This means that there still isn't a lot available, specifically those compatible with multipoint locks. 
Most smart locks are catered to deadbolt mechanisms or even mortise locks. Here are some of the products you can find for your multipoint lock. 
The Ultraloq smart lock combines several features in just one product. It has fingerprint identification, a mobile application, a PIN code, a mechanical key, and a contactless key fob. 
Most interestingly of all, it has a Magic Shake feature in its application. To open your door, you just need to open your application and shake your phone. The Ultraloq combines most, if not all, smart lock features.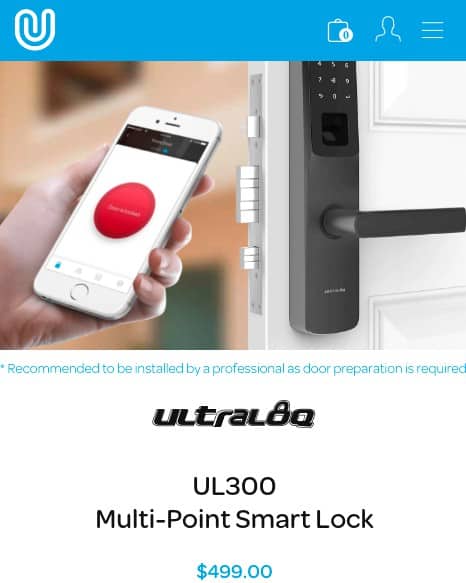 This product has another unique special feature. The anti-peep touchscreen allows you to type in your PIN code in the middle of a random set of numbers. This will deter any onlookers from trying to guess your code. 
It's ideal for your children and any elderly since they can use a contactless key, where they just hover the key fob over the entrance lock to gain access. 
Here are some additional pros to consider below. 
Pros
Provides a log record 
Has a one-year battery life 
Can block unwanted guests
Stylish and modern design
Voice-guided
OLED display
Needs a two-factor authentication
User-friendly 
Cons
Can be expensive 
Pricey installation 
The Danalock V3 model is compatible with almost any door lock. The wireless smart lock is completely keyless. You only need to use your phone. This product offers significant versatility in this aspect. 
It can connect with third-party applications, your business calendar, or any booking system. To put this into perspective, you can have a special event or vacation booked and your smart lock would be able to lock your doors for the duration of your leave. 
The Danalock V3 can operate through various channels such as Bluetooth, Apple HomeKit, Z-Wave Plus, Zigbee, Alarm.com, and SmartThings. 
When it comes to data encryption, the smart lock has got you covered. It uses a symmetric key cipher (AES 256). In other words, the sender and receiver of the information will need to use the same key, keeping your data more secure. Did you know that they use this sort of data encryption in the military? 
The Danalock V3 has a notable feature other multipoint smart locks may not have: the twist assist. This special function allows you to use your thumb to turn the smart lock for it to unlock.
The product also comes with a sensor, where it detects you coming up the door. If you can't reach for your phone to unlock the door, it does it for you. Once you're inside, it locks it back. 
Pros
Highly secure 
Flexible with third-party channels
Sleek and minimal design
Exceedingly convenient
Long battery life
Automated system 
Cons 
No color options (only silver available) 
Benefits of Multipoint Smart Locks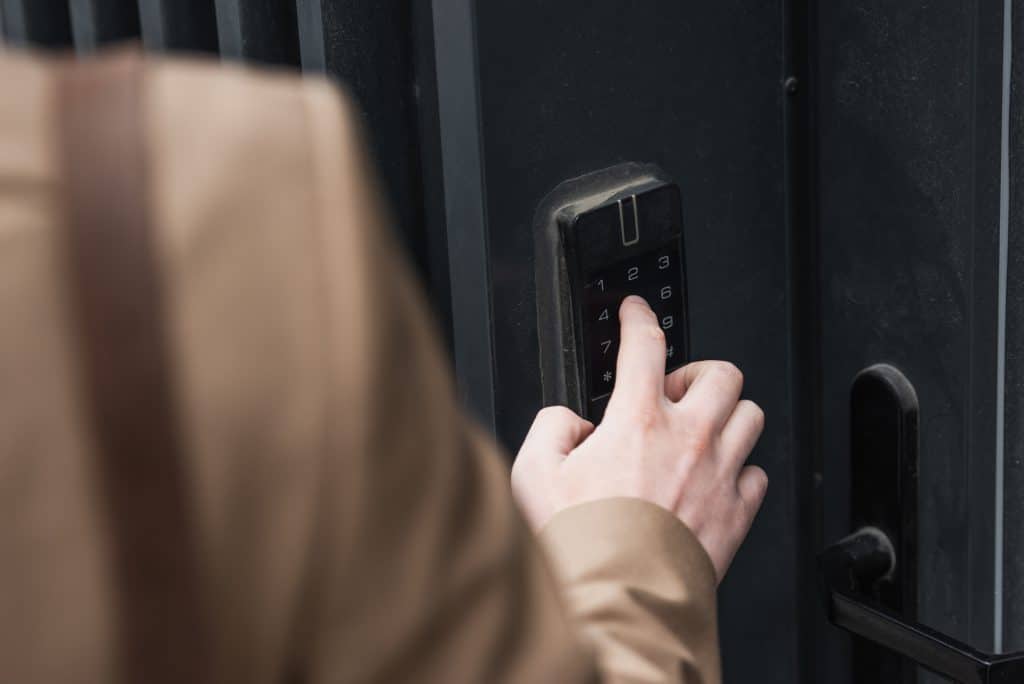 Multipoint smart locks are providing a gateway to a safer home security system. While smart locks alone give exceptional security, imagine a three-point system added. You'll be living in an unbreakable fortress (well, not really – but it might feel like it sometimes!). 
With the additional smart lock, you can safely tuck away your steal-prone key. You also have the extra convenience of changing up your security system however and whenever you like. 
That being said, we can't ignore some of the disadvantages of a multipoint smart lock. With computer technology moving forward, you're also bound to be met with a few hacking hiccups. Yes, your system can be penetrated, but some locks may be able to alert you of any disruptions. 
Apart from that, smart locks tend to be battery-operated. Power outages are a possibility and they may cause some connectivity and access issues. 
What to Know About Multipoint Smart Locks
Multipoint locks consist of two separate steps when opening them. You turn the key and pull up the lever. Both steps will fasten the door strip's bolts shut. 
The two distinct locking mechanisms are the door strip and the cylindrical lock. Multipoint smart locks can provide you with these two parts, but some only offer cylindrical locks. 
You might think it's more economical to choose one that only provides the cylindrical lock. Nevertheless, some multipoint smart locks with both parts are more wallet-friendly.
Both also differ in appearances. The cylindrical multipoint smart lock is more visible and protruding. On the other hand, the more well-rounded multipoint smart lock option looks more natural and keeps all electronic parts inside the handle. 
To Conclude 
So can multipoint doors have smart locks? Yes, they can. Alone, multipoint locks are a suitable method to provide secure protection, but there's always room for improvement.
Smart locks will upgrade your locking system, providing more special features, ease of access, and user-friendliness. 
Out of the products mentioned above, we believe the Ultraloq model might be the best in terms of functionality and convenience. We hope you find the right lock for your house.