Wyze Cam is a popular and affordable smart home security camera. With its small size, HD video quality, motion, sound detection features, and easy setup. Some parents consider using Wyze Cam as a baby monitor. Here is an in-depth look at how well Wyze Cam works as a baby monitor and its pros and cons for monitoring babies.
How Wyze Cam Works as a Baby Monitor
The basic features of Wyze Cam that enable it to function as a baby monitor include:
Video and Audio Monitoring
Wyze Cam records and live streams 1080p full HD video. This lets you see your baby clearly on your smartphone or other mobile device.
It has a microphone to pick up audio. You can hear if your baby is crying or making noises.
Motion and Sound Detection
Wyze Cam has motion and sound detection features. It can send alert notifications to your phone when it detects movement or sounds in your baby's room.
You can adjust the sensitivity of motion and sound detection as needed. This helps cut down on false alerts.
Accessibility
Since Wyze Cam streams over WiFi, you can check the live video feed and audio on your smartphone or tablet from anywhere.
Wyze's mobile app makes accessing the camera's feed and features easy.
Affordability
Wyze Cam only costs around $25-30 per camera. For parents who want video baby monitors, Wyze Cams are more budget-friendly than most dedicated baby monitors.
You can add multiple Wyze Cams for extra coverage without spending a fortune.
Two-Way Audio (with Cam Plus subscription)
You get two-way audio functionality with a Cam Plus subscription ($1.25/month per camera).
This allows you to talk through the camera to soothe your baby from your phone when you're not in the room.
Pros of Using Wyze Cam as a Baby Monitor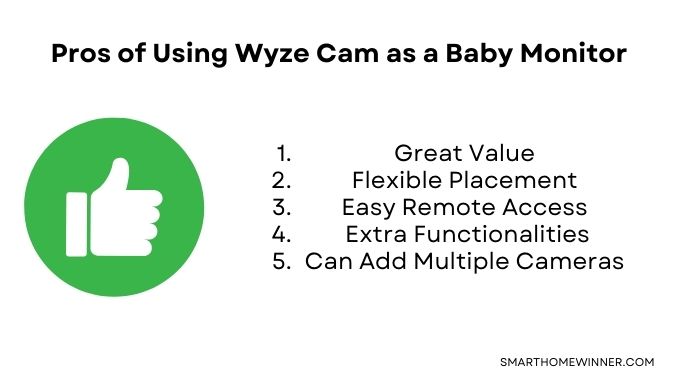 Here are some of the main benefits of using a Wyze Cam as your baby monitor:
Great Value
The affordable price of Wyze Cams makes it easy and cost-effective to outfit your baby's room with high-quality video monitoring without spending a lot.
Flexible Placement
Wyze Cams are small and portable. You can place them anywhere in your baby's room to get the best view of your baby in their crib without cluttering up the space.
Easy Remote Access
You can check in on your baby from anywhere using the Wyze app on your smartphone. Wyze's connectivity and app make remote monitoring smooth and convenient.
Extra Functionalities
With a Cam Plus subscription, you get features like two-way audio, longer video clip length, and smarter alerts that enhance functionality.
Can Add Multiple Cameras
Adding extra Wyze Cams in additional rooms or areas is inexpensive, allowing you to scale up.
Cons of Using Wyze Cam as a Baby Monitor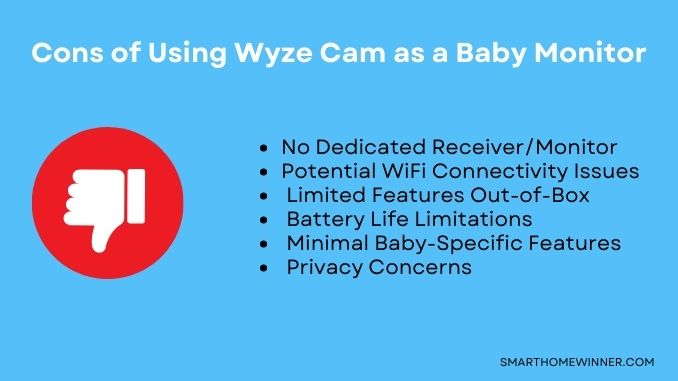 However, there are also some downsides to be aware of:
No Dedicated Receiver/Monitor
You'll need to monitor your baby through your smartphone or tablet. There is no standalone receiver/monitor for convenience.
Potential WiFi Connectivity Issues
Relying on WiFi means you could lose connectivity if there are internet problems or router issues. This can disrupt remote monitoring.
Limited Features Out-of-Box
Without Cam Plus, you only get basic features. You miss out on two-way audio, longer video history, smart alerts, etc.
Battery Life Limitations
The camera needs to stay plugged in. The battery lasts only 2-3 minutes if power is lost, so there is no overnight battery.
Minimal Baby-Specific Features
Wyze Cam lacks baby monitor-specific features like room temperature display, night light, or lullabies.
Privacy Concerns
There are some privacy risks with connected cloud cameras from a security standpoint.
Tips for Using Wyze Cam as a Baby Monitor
If you want to use Wyze Cam successfully as a baby monitor, here are some tips:
Place the camera at least 3 feet from your baby's crib. Don't have it pointed directly at your sleeping baby.
Ensure the camera view captures your baby and their crib/bassinet area for full coverage.
Adjust motion sensor sensitivity so you don't get overly sensitive alerts. But keep sound detection sensitivity higher.
Use Cam Plus-packed features like two-way audio for a more robust monitoring setup.
Install Wyze Cams by mounting them firmly or using the stand to stabilize the camera view.
Position the camera so the side of the crib with the baby's face is most visible.
Ensure your WiFi network connection is reliable where the camera is installed.
Have a backup way to monitor your baby independently if connectivity issues occur.
Conclusion
The Wyze Cam can certainly work for many parents as a budget-friendly smart HD video baby monitor thanks to its core features and app accessibility. However, the limitations mean it may only suit some families' monitoring needs. Paying for Cam Plus can add more robust functionality if you use Wyze. With proper setup and expectations, the Wyze Cam can be a cost-effective baby monitoring option.