The Ring Indoor Cam is quite popular among smart homeowners: this smart camera has captured a large market share in the few years that it has been released. It goes without saying that it dominates the market due to several reasons. For example, it allows many homeowners to deter and even catch intruders.
If you are thinking about investing in this camera, you might have a few questions that you need answers to before making up your mind whether to buy it or go for something else. Here are 12 FAQs and answers about Ring Indoor Cam, which hopefully answer your questions. 
1. What's The Difference Between The Ring Stick Up Cam And Indoor Cam?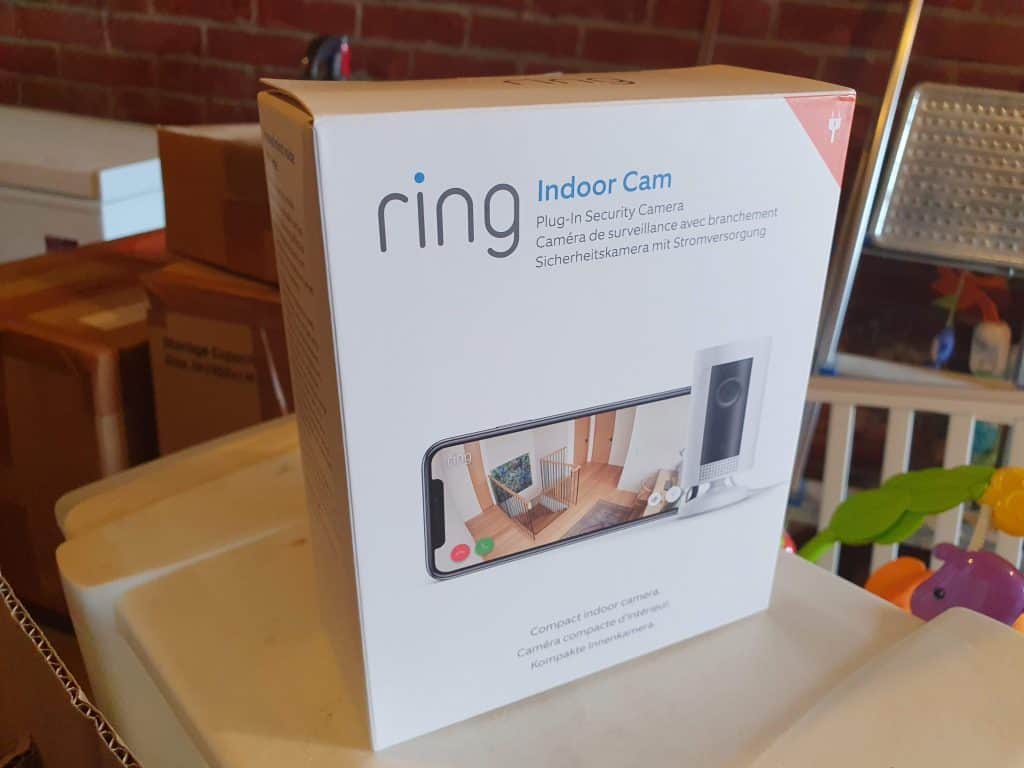 There are a couple of differences between the Ring Stick Up and Indoor cameras:
First, the Ring Stick Up camera is built for indoor and outdoor purposes, whereas the Ring Indoor camera is for indoor use only.
Secondly, the Stick Up camera can support a range of power technologies (plug-in electricity, solar, and battery), while the Indoor cameras strictly require plug-in electricity.
Third, Stick Up cameras only have partially customizable motion zones when on solar power and battery modes, whereas Indoor cameras fully supports customizable motion zones.
Fourth, Stuck Up cameras measure 3.82″ x 2.36″ x 2.36,″ while Indoor cameras come with the following dimensions; 1.81″ x 1.81″ x 2.95″.
2. Which is Better Between the Ring Stick Up and Indoor cameras?
The Ring Stick Up camera is slightly better than its Indoor counterpart. That's because, unlike the latter which suits only indoor purposes, this camera serves both indoor and outdoor purposes. But it tends to cost a little more than the Ring Indoor camera. To be precise, the Stick Up cam costs around $99.99 whereas the Indoor camera goes for $59.99. So, if you don't mind spending a little more dollars, you would be better off with the Stuck Up camera option. 
3. Can I Rotate The Ring Indoor Cam Videos?
The short answer is YES. If your camera captures videos in the wrong orientation or upside down because of its position, you can rotate and have those videos right-side-up or in the right orientation. To do that;
Go to your camera's app (i.e. the Ring app).
Choose your camera in the app.
Go to Device Settings.
Go to Video Settings.
Tap Rotate Video toggle to rotate your video as you desire.
Thereafter, your camera will record and capture videos right side up and in the right orientation. 
4) Does the Ring Indoor Camera record sound?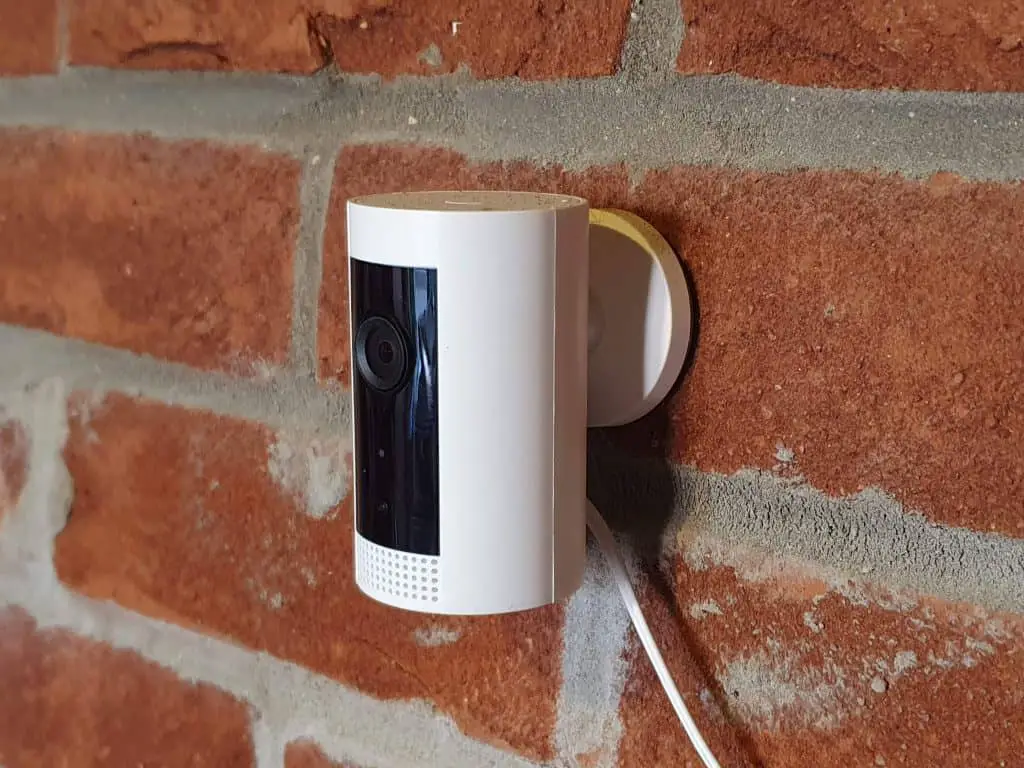 Yes, it supports sound. In addition to that, it supports two-way communication such that you and the person near your camera can speak with each other through the camera. 
If yours isn't recording sound or handling 2-way audio communication, you may have turned the sound feature off accidentally. To turn it on again and correct the problem;
Go to your camera app. 
Select your camera.
Tap Device Settings.
Go to Video Settings.
Tap the Audio Streaming and Recording toggle button to turn on sound. 
5. How Can I Talk Through My Indoor Ring Cam?
To do that;
First, you need to turn on a Video Stream through the Ring app, either by going to Live View mode or by clicking on a notification that you have just received.
Enable the microphone by un-muting it if it's muted. 
6. Does the Ring Indoor Camera Have Night Vision?
Yes, the Ring Indoor Cam supports night vision mode, turning the image into a black and white recording when there is minimal light. It also supports a software-enhanced Color Night Vision mode, which tries to 'guess' at the color of things in the recording (this sometimes works well, but other times comes out looking a little… strange).
7. Does the Ring Indoor Camera Have A Siren?
The short answer is YES. However, the siren doesn't comprise a separate siren hardware unit as you would expect it to. Even though it can scare some criminals, it's not as loud as a typical camera siren system.
This siren can be manually-activated when the camera is in Live View mode. When activated, the sound comes out through the camera system's existing speakers. 
8. Does the Ring Indoor Cam Record Nonstop?
No, this camera doesn't record all the time or 24/7 because the company values the privacy of you, your loved ones, and guests. As such, it only records whenever it detects motion, or when you activate the Live View mode. 
You can also decide to have the camera stop recording completely regardless of the mode you have it in or whether or not it detects motion. If you choose to stop recording due to one reason or another;
Go to your camera's app.
Tap the Record Motion feature and turn it off. 
9. Does The Ring Indoor Cam Work Through Glass And Windows?
The camera works through transparent materials such as glass (including glass windows. Unfortunately, this is only possible during the daytime as motion detection is almost impossible at night. 
The indoor camera records only in daytime light when it can detect motion through pixel detection(where the camera looks for actual changes to what's being recorded). When nighttime and darkness kick in, it switches from Pixel Detection to the Infrared Sensors where it depends on the sensors instead of Pixel Detectors, for motion detection.
The problem with this night method is that infrared readings won't work through glass. For example, an intruder could be walking around your backyard, but your Indoor cam won't detect them. That's because the intruder's infrared emissions will be blocked by the window such that the camera won't pick them up. But that doesn't mean that the camera can't show you video in Live Mode at night because it still can. 
10. Can I Use The Ring Indoor Camera Outside?
While the camera can still work well outside of the house, it's not a good idea to use it outdoors. Why? Because the Ring Indoor Cam is designed specifically for indoor use.
It doesn't have any weatherproofing, which means that it can be easily damaged by rain, snow, moisture, intense heat, and many other weather elements if you decide to put it outside the house. 
The Ring Stick-up Cam and Ring Floodlight Cam are designed to work outdoors, however.
11. Can My Ring Alarm Be Triggered By My Ring Indoor Cam?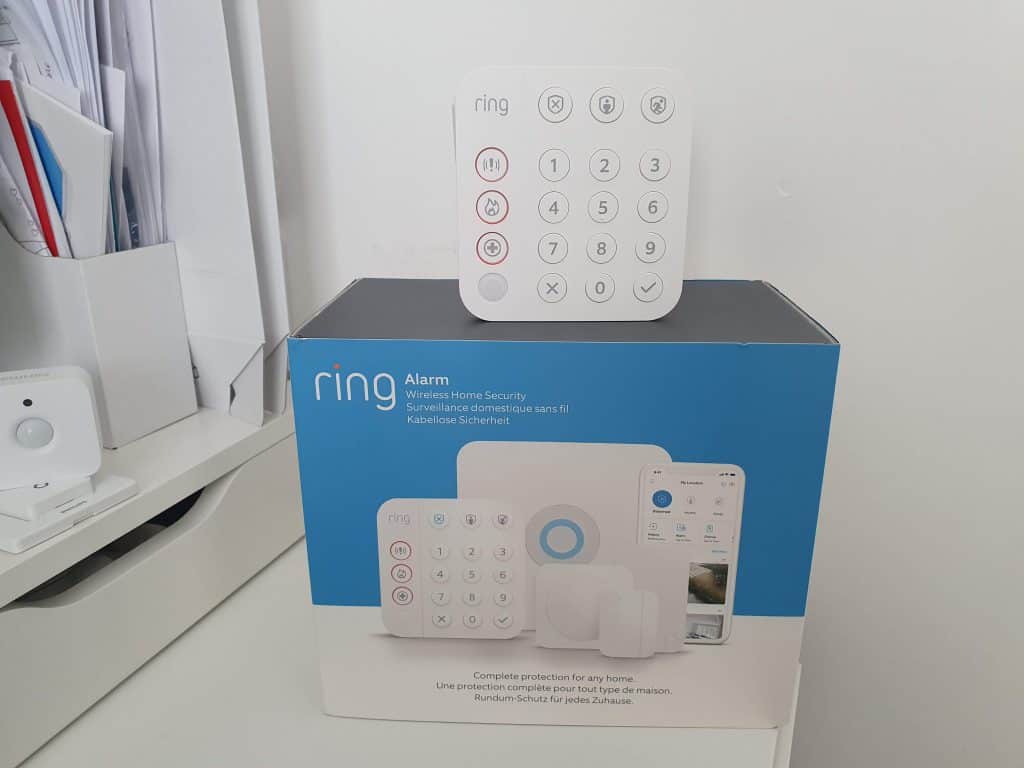 The short answer is NO. Ring camera models still lack the capability to trigger the Ring alarm. You can only trigger your alarm manually, using the Ring app. However, your Ring alarm will automatically activate your Ring camera's recording functionality if the siren goes off.
This will enable you to capture evidence of any intruder who may try to break into your home at night and make it easy for the police to track down and arrest them. 
12. Are Ring Cameras Good?
The short answer is YES. Ring cameras rank as some of the best cameras for smart homes, thanks to their outstanding quality. Don't forget that the brand is a subsidiary of Amazon, which is arguably the third-largest company in the world. 
Final Thoughts
If you are looking to invest in a quality indoor camera system, you definitely wouldn't go wrong with the Ring Indoor camera. This camera not only works as advertised, but it also offers several amazing features that expand its capabilities e.g Infrared Sensors that enable it to detect motion at night. I hope this article answered all the questions and doubts you may have had about this camera.