A smart plug is among the many versatile additions you can make to your Smart home. With smart plugs, you can effortlessly turn your traditional power outlet into a lovable smart home system. Notably, smart plugs are controlled by remote devices and connected to the internet to transfer critical information.
Hive is among the many databases that connect smart plugs to a control gadget. However, it is important to note that not all smart plugs can work with Hive. There are some that are compatible while others are not. This post will cover some of the smart plugs that work perfectly with Hive.
4 Smart plugs that are compatible with Hive
Here is a list of smart plugs that work well with hive to pass commands from the control gadget.
Hive smart plugs
First on the list are the Hive smart plugs. Apparently, hive smart plugs are the best way of making your home activities seamless. The smart plugs enable you to turn appliances on and off from your comfortable area. This enables you to save time and energy.
You can set schedules on your Hive plugs. For example, you can let it turn on your lamb when darkness is sensed and turn it off at a set time. You can do this to your electric induction cooktop, fridge, or Washer. Basically, with Hive, you can automatically turn on and off any appliance connected to a smart plug.
Like other plugs, installation of a Hive smart plug does not require screws or tools. It is simply inserted in the existing traditional socket and integrated with a control app or
Amazon smart plugs
Amazon smart plugs are designed in a way that they can work with most connection hubs, including Hive hub.
Amazon smart plug is not the cheapest in the market, but its features are worth the price.
However, the plug cannot work with timers because it lacks this feature. If you have connected it to the Amazon smart plug, you can't set your device to turn off after 10 minutes.
The plug is compatible with Amazon's Alexa voice assistant but does not work with Apple Siri or Google assistant. This means you can't integrate the plug into your Google Nest or Apple home hub. It will only work when integrated with amazons hub or Hive.
Philips hue smart plugs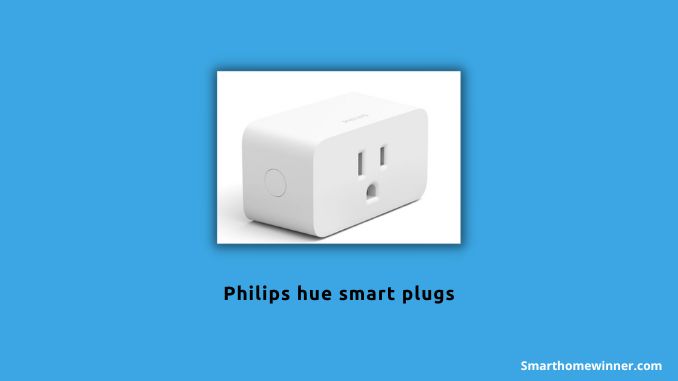 Philips hue smart plugs also work well with the Hive hub. The Philips hue smart plugs come with unique features that will serve you all you need from a smart plug.
The plugs can also be integrated with Amazon or Google assistant. This means if you don't have a functional Hive hub, you can as well consider other options.
Philips hue plugs are not expensive and can serve you for a long time if well maintained. Timers enable you to set a schedule for your machines to run when connected to the Philips hue smart plug.
TP-Link smart plugs
As with most smart plugs, the TP-Link smart plug models plug in a single socket; then, you place other device plugs into the smart plug. All the basic and most important features you would want from a smart plug are present in the TP-Link smart plug models. It has a timer that enables you to set a schedule on your appliances. Like other plugs, it can be remotely operated.
An energy monitoring unit lets you see how much energy your plug is passing to an appliance. This way, you can tell which appliances consume more energy, and find ways of regulating it.
All these plugs have different models, with the most recent models functioning better than the old ones. When purchasing, it is important to check on the plug model to be sure that it will serve you just as you need.
Conclusion
Hive is a renowned smart home hub that enables you to integrate and remotely control your smart home systems. With this hub, you can run your lighting systems, thermostats, security cameras, sensors, and even smart plugs and switches. All your smart operations can be done remotely if you have set up Hive correctly. Even though not all smart plugs will work with Hive, the most reputable and common smart plug brands are compatiblewitho the Hive hub. You, therefore, have a high chance of purchasing a plug compatible with Hive.