Getting a decent internet connection in rural areas is a real problem. This is especially true considering cable broadband internet is often unavailable in remote areas. Amidst this challenge, Starlink promises high-speed, low-latency broadband internet connectivity to people in remote and rural areas.
If you have Starlink internet and want to install a smart home security system, knowing what security cameras work with Starlink is essential for the safety of your home and family. While a host of security cameras work without the internet, smart cameras allow you to keep an eye on your property while you are away. Interestingly, most security cameras today are designed to work with standard internet connection.
Apart from the high-latency issues associated with satellite internet, Starlink works pretty much like other internet service providers. As a result, you can connect your security cameras to the Stralink router and enjoy heightened security.
This post will explore some of the security cameras that work with Starlink.
3 Most Popular Security Cameras That Work With Starlink
Providing fast speeds and low-latency internet access on nearly any location, Starlink is poised to revolutionize remote surveillance and security. For people having Starlink internet, connecting your smart security cameras to your Starlink Router can help you monitor your property in real-time. Best of all, the Starlink router supports IEEE 802.11a/b/g/n/ac, which is recommended for most security cameras.
Using Starlink allows you to connect your cameras to the Videoloft cloud so you can remotely control them remotely and keep an eye on your property. Here are cameras that work perfectly with Starlink Internet:
1. Ubiquiti Cameras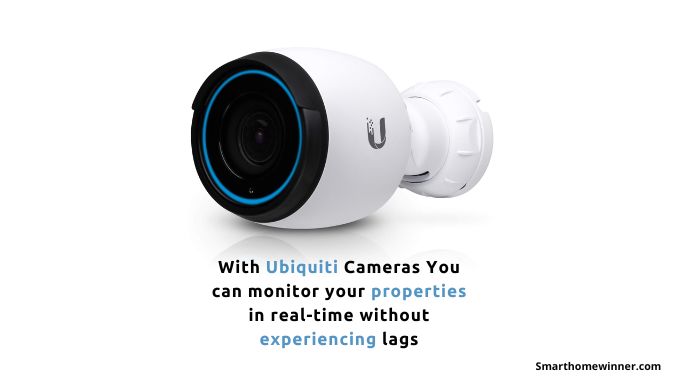 Ubiquiti makes some of the most innovative surveillance systems, and its expansive range of security cameras has earned a reputation for being one of the most scalable. The cameras are easy to use and integrate with the dedicated Protect system seamlessly, making it easy for users to keep an eye on their property and business premises. Interestingly, all the UniFi cameras support at least full HD, with the newest models reaching 4K. They also come with infrared LEDs to provide clear feeds at night.
Perhaps the best feature is the well-thought-out UniFi Protect app. With Starlink promising internet 10-20x faster than their competitors, homeowners can monitor their properties in real-time without experiencing lags. The app allows you to scrub back to previous events and record and save videos easily.
Ubiquiti cameras' motion detection works well and is not easily triggered by false positives, which would otherwise send you unnecessary alerts.
The biggest drawback of Ubiquiti cameras is that they are pricier and limited in supply. They are also hardwired.
2. Blink Cameras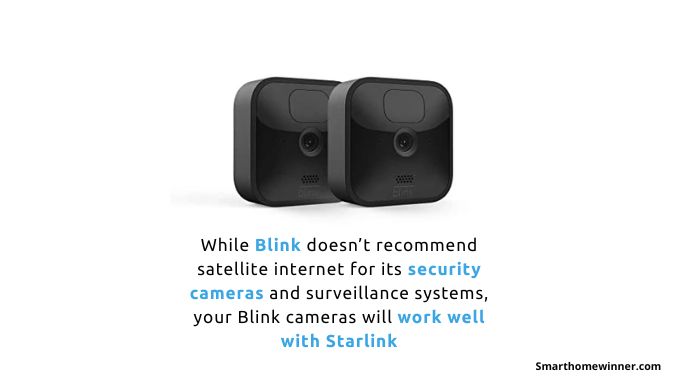 Blink focuses on making affordable, useful, and easy-to-use smart home security systems, making their cameras ideal for homeowners on a budget. To help you keep an eye on your home all the time, Blink security cameras offer 1080p video quality and great night vision.
While Blink doesn't recommend satellite internet for its security cameras and surveillance systems, your Blink cameras will work well with Starlink, provided the internet upload speed is consistently 2 Mbit/sec or higher. Because of their small size, Blink cameras can easily be concealed to capture footage undetected, which is a plus for enhanced security. They arguably have the most aftermarket mounts, including options to mount them to rain gutters.
Blink cameras are not only sleek and functional but are also wireless. They come with two AAA batteries that can last up to 2 years, depending on settings. Although their motion-detecting distance is not the largest, Blink security cameras offer an excellent combination of features you would expect from an innovative surveillance system.
3. Ezviz Security Cameras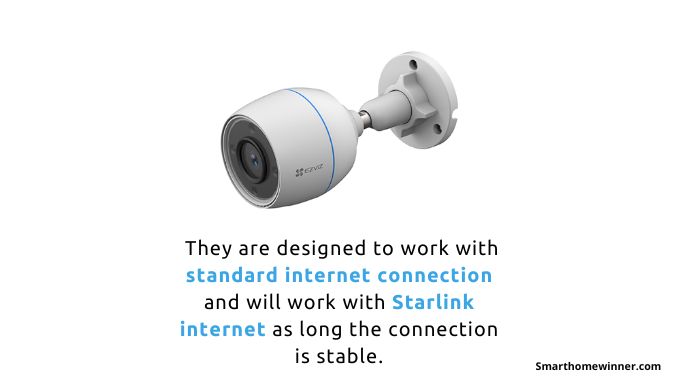 Ezviz cameras are hybrid high-tech home security cameras offering many intelligent, customizable features. They are designed to work with standard internet connection and will work with Starlink internet as long the connection is stable.
As you would expect from any innovative surveillance system, Ezviz security cameras are equipped with motion detection tracking to help you stay ahead of potential intruders. The high-resolution cameras deliver bright and crisp footage 24 hours a day.
Ezviz cameras are designed for simple and intuitive installation so that you can start monitoring your home immediately.
Conclusion
Due to latency issues, many smart security camera manufacturers do not recommend satellite internet for their products. However, this should stop you from investing in smart home surveillance systems if you have satellite internet. With Starlink offering faster internet speeds, several truly impressive security cameras can work seamlessly with Starlink Internet and possibly other satellite internet services.