The Ring Chime has some benefits that can add to the functionality of your Ring Doorbell such as letting you know someone is at the door, improving the WIFI for your Ring system, and even using it outside to change the sound your guests hear when they press your doorbell. 
Yet, the Ring Chime isn't something that comes with your Ring Doorbell as it's optional. One comes with the Ring Doorbell Pro but the Ring Chime isn't something you must have to get your Ring Doorbell to work. Is the ring chime essential or pointless? It pays to look at the benefits of it as well as other options. 
What the Ring Chime Does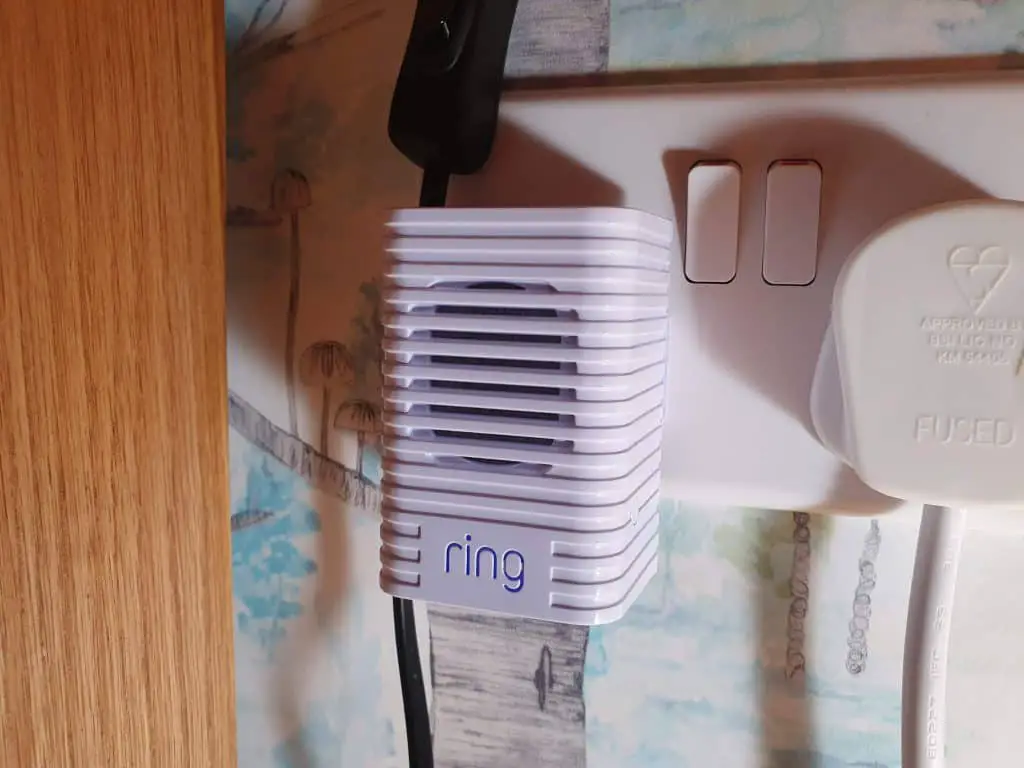 The Ring Chime is a separate speaker unit that you can place anywhere in or outside your home so you can hear the front doorbell even if you don't have your phone. It plugs into an electrical outlet.
For those unfamiliar with Ring, the system notifies you on your phone when someone presses the front doorbell or if there is movement detected by the motion detector. This is a great notification system except people don't always carry their phone with them if they are at home or if they bypassed their original doorbell system to install the Ring Doorbell.
People use the Ring Chime in other parts of the home where they can't hear the front door, like in an upstairs room or a back kitchen. You can also put one in an electrical outlet on the back porch so you can hear the front doorbell if you are in your backyard. 
Some people buy several and place them all around the house to ensure they can hear the Ring Doorbell.
The Benefits of a Ring Chime
The Ring Chime has several different sounds you can pick so you can personalize it. There are anywhere from 15 to 30 different chime tones from which to choose. 
This is a great benefit if you don't like your doorbell ring or for unique purposes. For instance, the dogs barking sound can scare would-be burglars and some spooky sounds, like a creaking door, can be fun around Halloween. 
Other Uses for Chimes
There are also Christmas chimes ready to use for the holidays. Christmas songs like "Jingle Bells," "Hark, the Herald Angels Sing" as well as Jewish songs for Hanukkah like "Ma'oz Tzur" and "Oh Hanukkah" are available. This can add a little extra to your holiday spirit. 
You can also turn off the Ring Chime sound if there are times you don't wish to hear it like while the children are napping or in the middle of the night.
It also is useful if you use a Ring Chime on your front porch to bypass the default sound on your Ring Doorbell that your guests hear when they press the doorbell. 
This can be a nice option if you want your visitors to hear something special for a party or during a particular season. The only challenge is you must find an outside outlet that is also in a dry space and hidden enough from would-be thieves.
Improving Your Wifi
Ring Chime can improve the stability and expand your WiFi for your Ring Doorbell and that can be useful if you are in an area where WiFi isn't always fully functional. However, it only works to improve WiFi to your Ring devices and doesn't improve overall WiFi stability for your other electronics like your phone, laptop, or tablet. 
It is also important to note that several Ring Chime devices won't network together to supply WiFi where needed. It is best to split your Ring devices among the different Ring Chime devices to ease the WiFi burden and provide a better system by providing a stronger signal. However, it isn't a whole-house signal strength.
Beyond that, the Ring Chime has a nightlight which is helpful if you get up at night. That is something other devices don't have so it can be a beneficial extra as part of your security system.
Other Options
You have other options that can do many of these same things rather than buying the Ring Chime. You can use Echo, Google Home devices, or even your old doorbell to do the same things as the Ring Chime device. 
None of those systems are more complicated than using the Ring Chime and function much the same way. Like the Ring Chime, these other devices are connected to outlets and your phone app so they are used the same way. The difference is in their functionality and options within the app.
High Tech Options
The Echo Dot has more functionality than the Ring Chime. Once connected to your Ring system with the Alexa app you can have announcements play through other electronic devices like Echo and Fire TV stick. 
These devices have at least 26 chime selections and can also offer a verbal announcement to your guests on the porch that you will be with them shortly. That is something the Ring Chime doesn't have. 
Like the Ring Chime, these devices can be used both inside and outside the house as long as there is an electrical outlet and they stay out of the weather.  The only serious concern with using these devices outside is theft, particularly if you use them to greet your guests on the front porch.
The Echo and Google Home devices cost around the same as the Ring Chime. Overall, most who have these devices say they have more uses because they can have other sounds and verbal messages beyond the Ring Chime, which just has sounded.
Some combine one of these devices with one Ring Chime to gain as much functionality as possible and extend announcements throughout the home. However, those who are concerned about privacy may prefer the Ring Chime since these other devices are designed to "listen" for instructions. 
The Ring Chime only makes sounds and doesn't have a monitoring ability like the Echo or Google Home device.
Using Your Old Doorbell
You don't have to completely ditch your old doorbell to install the Ring system. Yes, you have to bypass it to install the Ring Doorbell – but that doesn't mean you can't use it all. 
Those with doorbell systems that are compatible with the Ring Doorbell can have them reinstall to have the same indoor sound you've always had when the doorbell is pressed. 
This could be a good option even if it costs extra money because your old doorbell is hardwired into the home so it isn't dependent on WiFi. These doorbell systems are louder than any electronic system you would be able to hear them from any part of the house. 
They are typically good, quality systems so they will last forever even with high use and many install chimes that go with the style and price of the house they showcase a certain image that people like whether it is a rich-sounding musical chime or a happy tone.
Reworking your old doorbell system to work with your Ring could save you money if you plan on buying multiple Ring Chimes to put throughout your home. You would need to compare the cost of reworking your doorbell system to accommodate the Ring Doorbell rather than buying multiple Ring Chime devices. 
One thing to be aware of is every doorbell system isn't compatible with the Ring Doorbell. You would need to check your system before or when you get your Ring Doorbell installed to see whether it is compatible.
Improving Your WiFi
Those who see the primary benefit of using the Ring Chime as improving or extending WiFi may do better to buy a third-party WiFi extender. This is a small plug-in device that can boost your signal. 
Most WiFi extenders cost about three times more than one Ring Chime but they have a little more functionality in boosting your Wifi because it will provide more signal to the entire house's Wi-Fi devices, not just your Ring system.
This device can help the WiFi stability of your Ring system and will also improve it for all your other devices depending on WiFi.
Final Thoughts
Ring Chimes are pretty inexpensive and easy to set up. They are a good option to help you hear when someone presses your doorbell so you don't have to be tied to your smartphone. Yet, their functionality is a bit limited so those interested in trends and lots of functions could do well to research other devices.