Ring Doorbells can be great devices for alerting you to visitors or packages being dropped off but those who own them can find the sound they make to those on the porch to be offsetting. 
The Ring Doorbell became popular because of its functionality. It is beyond a doorbell but also includes a video camera, a speaker for you to talk to visitors, and is online. It connects to your electronic devices so you can see and hear who is on your doorstep even if you aren't at home. 
The problem is some people don't like the doorbell sound the system makes to visitors at the front door. Plus, many people like to personalize sounds like rings. This is especially helpful to those who live in condos or apartments with others who could have the same devices. 
It could also be fun to change a ring for a party or holiday. It's just the ring doorbell sound is boring, can it be changed?
The answer to that is no, and yes. The Ring Doorbell doesn't have a function to change its sound directly on the system. However, there are some ways and gadgets you can use to provide a different sound to your guests by using systems like Echo, the Ring Chime, and even your old doorbell. 
The Silence of the Ring
You can always put your Ring system sound on silent. That would mean your visitors wouldn't hear a sound at all. The problem with that is that many would think your doorbell isn't working if they don't hear a sound, especially if you fail to come to the door promptly. 
However, you will need to turn off your Ring sound anyway to allow for any of the other options to change your sound. 
The Ring functions can easily be found on the app. They are clearly labeled so even those unfamiliar with apps should have a problem finding them.
To shut down the sound:
Go to the Ring app on your phone and open it.
Select your Ring doorbell
Go to "Device Options"
Find the volume/"ringer" slider.
Use the slide to lower the volume of the outdoor bell. You can turn it all the way to the left, if you want no sound. This is what you must do to use other devices.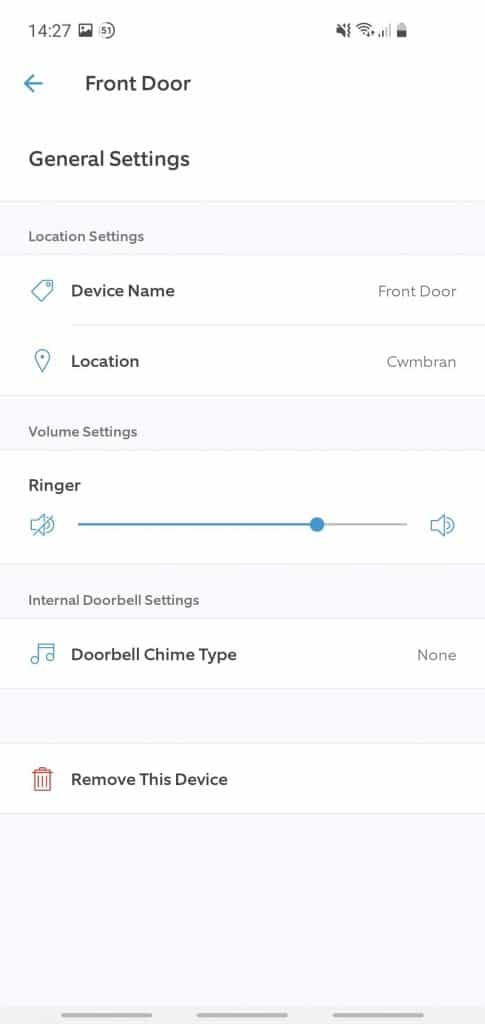 If you just want to get rid of the outside sound, turning down the volume may be the perfect solution.
Those who still want the default sound but don't want it to blare out your guests can just turn down the volume halfway or more. They will still hear it but won't be surprised by it.
How Can I Have a Different Sound?
You can have a different sound play outside through your Ring Doorbell, but you have to get a little creative to accomplish it. 
There are three ways you can create a sound to play outside. 
Using Ring Chimes
Using an Echo Device or Alexa
Using your old doorbell
Let's take a look at each option in turn.
Using a Ring Chime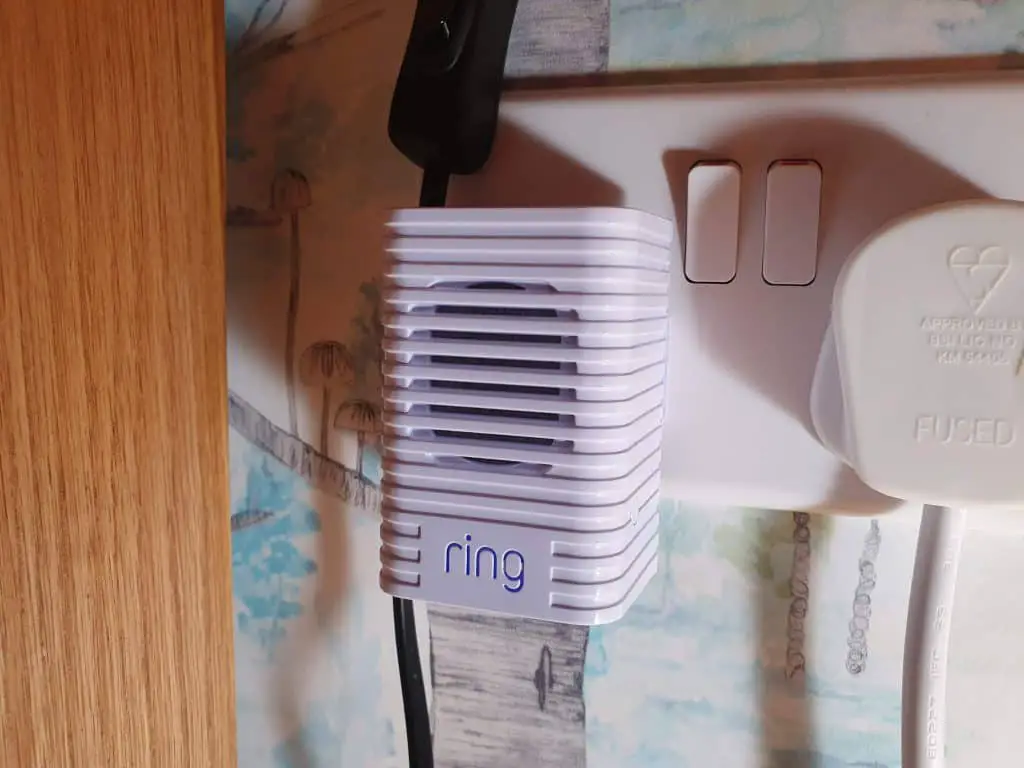 Most people believe using the plug-in Ring Chime unit is the easiest way to create a personalized sound for your porch. 
A Ring Chime is a speaker for your Ring devices. The cool thing about the Ring Chime is you can set it up inside or outside as long as you can insert it into an electrical outlet. Your guests will be able to hear it clearly outside, but naturally the weather (and possibility of theft) might be a flaw in this plan. 
Your Ring Chime needs to remain dry so it needs to be in a covered area where it won't get wet. It also needs to be out of direct sunlight. It also needs to be hidden so would-be thieves can't find it.
Another option is to put the Ring Chime inside in an outlet close to the front door. That way your visitors will hear, it but it will be safe from weather and theft. The doorbell sound will have more of a muffled tone to your guests, like the doorbells they are used to hearing. 
An advantage to using the Ring Chime is you can download new ringtones and personalize your Ring devices. That can result in many fun tones that can be changed regularly to suit your mood or the season.
To use the Ring Chime follow these steps:
Open the Ring app on your smartphone.
Go to Ring Chime Device.
Find the Chime Tones button. Click and you will see a list of different tones.
Play a sample of those you are interested in and select one. There are at least 15 and can be up to 30 ringtone selections, depending on the model of the Ring Chime you have.
Adjust your sound on your Ring Chimes slider button. 
Using Echo
You can set up your Echo device to act as a doorbell chime, activated when the Ring Doorbell is pressed. One advantage of the Echo is it has a good selection of doorbell sounds in its library. 
Like the Ring Chime, the Echo must be plugged into a socket and will also need to be in a covered area away from water and direct sunlight. It will also need to be hidden or under a camera in case of theft. 
Also, like the Ring chime, you could set up your Echo in an outlet inside near the front door so your guests could hear a sound but not be surprised by its loudness or clarity. 
To use the Echo:
Launch the Alexa app and go to "devices."
Find "cameras." That is where your doorbell will be.
Find your doorbell by its name and click on "announcement devices."
Select your Echo by name and click. Be sure it has a checkmark next to it so you know it is selected.
It's ready to play the sound you want! Just pick your doorbell sound and your Echo will default to that sound when your Ring Doorbell is pressed. 
Creative types can take Alexa a step further and set up customized music and greetings for their Ring Doorbell to activate. In this method, you won't choose Echo for your announcement device but will go to the Alexa app to set up a routine for your Ring Doorbell. 
There are "routines" (basically automated triggers) in the app to activate a selected sound. You can set your front doorbell as a trigger to activate the customized sound. Now, you can pick one of the more customized greetings including music, or a greeting from Alexa which could be anything you desire.
This can be fun for parties, special events, or if you run a business out of your home.
Using Your Old Doorbell
Those who want to keep their old doorbell can rewire it externally to be the sound for the Ring Doorbell. This is the most complicated of the methods to replace the Ring Doorbell sound, but could be worth the tie and effort if you truly love the sound of your old doorbell. 
The old doorbell has probably been uninstalled from the inside of your home when you put in the Ring system, anyway. This means that you could then reinstall it on the outside of your home, and use this as the mechanical ringer. Your Ring Doorbell needs to be compatible with your house doorbell, but you can rework your Ring to play the sounds through the traditional chime unit.
This can be done under the General Settings and then doorbell type settings of the Ring app. 
What About Phone Notifications?
Your Ring notifications for the Ring Doorbell and motion sensor are different from the sound heard on the porch. You will get sound notifications on your phone even if you silence your Ring Doorbell. 
Notification sounds can be easily changed through the app. To do that, go to your Ring Chime, click audio settings and Chime tones and pick what you want. You can change the sounds for both your doorbell and motion sensor notifications to be different tones so you know instantly what is happening at your front door.
Will Ring Ever Change Its Sound?
Ring officials have been told about customers' desire to be able to change the doorbell sound on the devices directly, instead of through other devices. The company isn't completely opposed to the idea but, so far, hasn't progressed with any re-engineering or options to allow for that. 
The sound will remain the default ringtone for now.
Final Thoughts
While Ring Doorbell doesn't offer a simple solution to change the sound directly on the device, some workarounds can be accomplished pretty easily. That way you can change your front porch sound for different holidays, parties, or for your business if you are running one out of your home.