Philips Hue is a well-respected brand that offers a wide range of smart home solutions including smart lights. The company provides lights for every room, certain areas, fixtures, and items in your home. These include smart ceiling lights, wall lights, outdoor lights, spotlights, recessed lights, pendant lights, and furniture lights. You can easily replace your existing light bulbs with these smart bulbs if your lighting fixtures support them. This will simply illuminate your home smarter. They also make a range of smart plugs.
Now, Philips Hue is a fairly restrictive ecosystem. In other words, it doesn't work well with many third-party products and solutions that use technologies like Wi-Fi. This has been a major setback for people who like to pair products from different makers.
Understanding Smart Plugs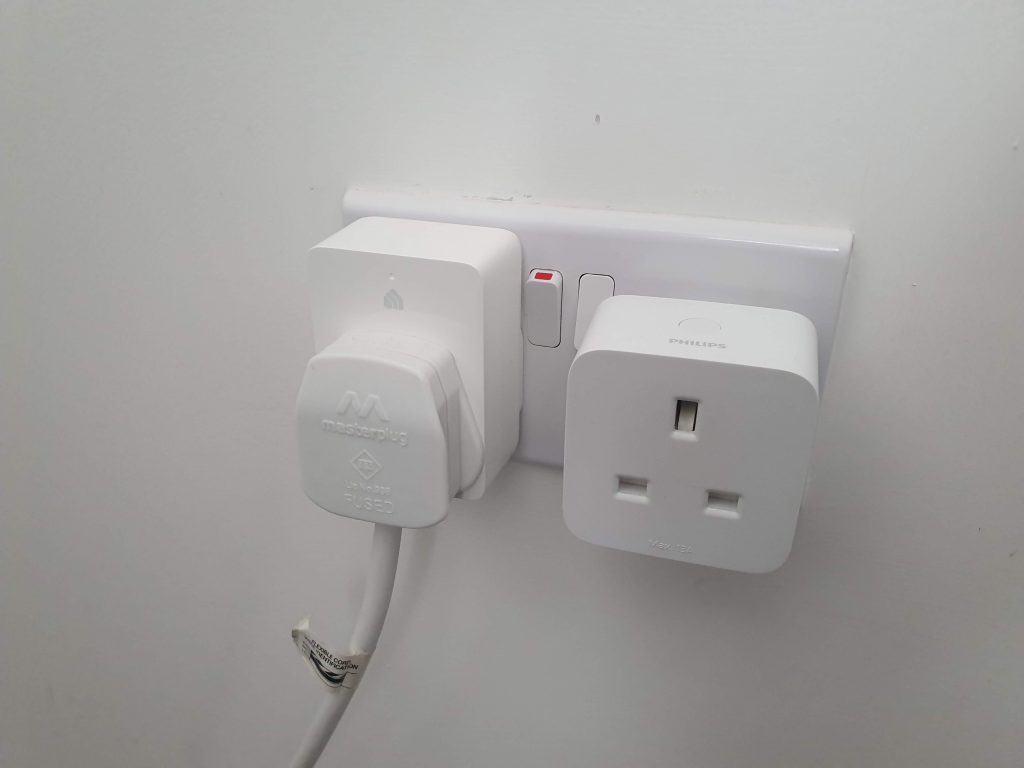 Smart plugs are devices that are designed to plug into wall sockets. You can then plug your appliances/devices or light fixtures into them one appliance/device or light fixture per smart plug. This will turn your 'dumb' appliances, smart. Then you can control them via an app, voice, Google Assistant, Siri, or Alexa.
By the way, most floor lamps, table lamps, desk lamps, nightlights, and torchieres exist as plug-in lights that are plugged into existing light fixtures. When it comes to domestic appliances or devices, almost every appliance or device you know can work with a smart plug. Your radio, coffee maker, Wi-Fi, TV, air purifier, humidifier & dehumidifier, as well as ceiling fans are just but a few of them. 
How many smart plugs do I need? Well, that depends on the number of outlets available in your home and the number of light fixtures and/or devices you want to control with the smart plug. As said earlier, smart plugs are designed to plug into the wall outlet first and then you plug a light fixture or an appliance into it. If the room has only one wall socket, you'll need just one smart plug.
However, if your room has several sockets and you want to connect multiple light fixtures and/or appliances to the smart plugs, the number of plugs you'll need should correspond with the number of your sockets and also that of the appliances you want to hook up with the plugs, with each appliance plugging into a smart plug. 
As you can see, smart plugs and Philips Hue smart lights are completely different sets of products. Back to the question; can you use Hue smart lights in third-party smart plugs?
The short answer is YES. Some smart plugs out there are compatible with Philips Hue smart lights. These include the Innr Zigbee smart plug and Hibro Zigbee smart plug. But Philips also offers a cool smart plug of its own.
You can invest in this smart plug if you already have Hue smart bulbs and also if you don't mind paying more. Otherwise, you'd be better off with Innr or Hibro smart plugs if you desire to use the Hue ecosystem without spending more.
Note: Shopping for the right smart plug that works with Hue smart lights can be fairly challenging if the above options aren't available and you aren't sure of what to choose. Here's a good rule though; consider only smart plugs that use ZigBee. Don't forget that Philips Hue smart bulbs and other products from the manufacturer only use this wireless communication protocol. 
Should You Buy Hue Compatible Smart Plugs?
Philips Hue is a crowd pleaser and many buyers are obsessed with the brand. They are so crazy about it to a point that they'll at least consider buying a smart plug that is compatible with its offerings if they can't afford its Hue smart plug. But if you know better, you may wonder; is it worth it? 
The short answer is, not really. That's because;
Firstly, not so many people have Hue bulbs at home since these smart bulbs are relatively pricey. And because of their high price tags, you may decide to keep off of them just like other homeowners. In that case, having Hue-compatible smart plugs will be pointless. 
Secondly, you may not find the right Hue bulbs for your light fixtures even if the price isn't an issue. That's because even though the company offers a wide range of bulbs for different light fixtures, it doesn't cater to all kinds of light fixtures. And by the way, most Hue smart bulbs aren't compatible with older light fixtures. That means the company may not have the right Hue bulbs for you if you have older light fixtures as explained above. In that case, again, striving to find Hue-compatible smart plugs would be utterly pointless.