Eufy is one of the more popular brands of cameras and doorbells that one might consider when looking to up their home security. 
If you're looking for a new security camera for your house, look no further. Eufy is a fantastic brand to think about. However, you may be wondering if their security cameras allow for continuous recording or not.
We delve into this topic in this piece and provide a few solutions you may not have considered.
Does Eufy Offer 24/7 Recording?
Up until last year, the only Eufy camera that offered 24/7 recording capability was the Eufy Indoor Cam 2K. However, times have changed and it seems like Eufy decided to up their game. They recently introduced a new range that also offers 24/7 capability. 
The Eufy Video Doorbell 2K Pro offers up to 5-day of continuous recording capability. It also has a storage of 32GB, a spacious storage space that can compete with other cameras in the market.
More About the Eufy Video Doorbell 2K Pro
Eufy's latest doorbell captures and broadcasts in 2K definition (2560×1920) with HDR and in a wider, more lifelike 4:3 aspect ratio. Weather resistance, two-way audio, alerts, and voice assistant integration are all standard features on the doorbell. 
Local A.I. image processing is also available on the Eufy Security Video Doorbell 2K Pro, allowing for facial recognition and filtering that can keep pets and automobiles out of alerts.
The addition of 32GB of inbuilt storage, which allows the camera to record for up to five days, is the most significant advance over the previous 2K video doorbell. 
Continuous recording guarantees that every moment is captured, eliminating the need for shorter segments that may lose important details. 
Because the new doorbell's continuous recording function is so demanding, it's only available as a hard-wired alternative, with transformers ranging from 16 to 24 VAC. The improved chime on the front of the new doorbell also has a fabric cover. 
The Eufy Video Doorbell 2K's incorporation of local storage through the HomeBase 2 is another reason to appreciate it. If you thought 2K video doorbells were uncommon, local storage is nearly unheard of.
Subscriptions to store doorbell footage are a big feature of competitors' revenue strategies. Eufy avoids this, making it more cost-effective to maintain and a better option for off-grid residences.
Other Eufy Products to Consider
Other than the Eufy 2K video doorbell, there are other products in the Eufy line that one might consider when buying a security camera. 
Let's look at some of them and see whether they offer 24/7 recording capability or not.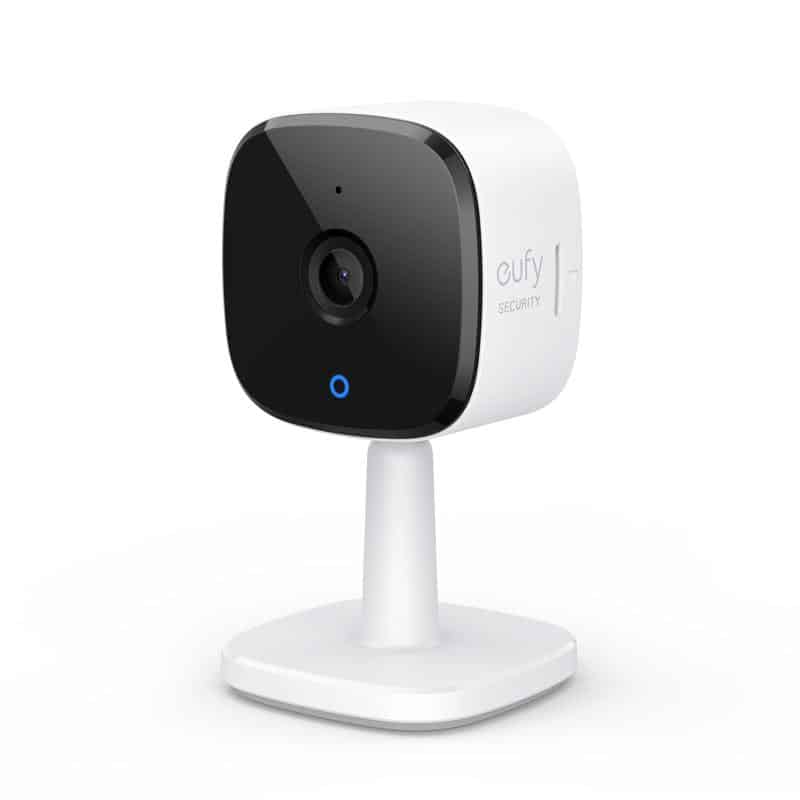 The Indoor Cam 2K is the brand's most basic wireless camera for indoor use. It's easy to set up and be up and running in just a few minutes, making it a fantastic choice for keeping an eye on kids, pets, and other indoor activities.
No matter where you are, two-way conversations allow you to communicate back and forth. Even at night, the photos were crisp and clear thanks to the camera's 2K capabilities. 
Live footage may be viewed at any time via the app or online interface, but continuous recording requires the use of a microSD card (not included) or the purchase of a cloud storage subscription.
Does It Offer 24/7 Recording Capability?
The Eufy Indoor Cam usually records video in clips, but it also offers a continuous video recording mode that runs 24 hours a day, seven days a week. 
To get 24/7 recording, you'll need to choose the local storage option, but the good news is that there's no monthly membership price.
With the addition of panning and tilting capabilities, this camera has all of the same functions as the 2K Cam. 
You can scan a whole area using the app on your phone, and a motion tracking function allows the camera to automatically follow any motion detected. 
We found it to be just as simple to install and operate as the 2K Cam, and it just takes a few minutes. 
You can also view live footage through the app or online interface at any time, much like with the Eufy Indoor Cam 2K.
Does It Offer 24/7 Recording Capability?
Yes, it does offer it. Much like its predecessor, this model also is capable of recording 24/7, but also, just like the Indoor Cam 2k, you'll need to insert a microSD card (not included) or pay for a cloud storage subscription.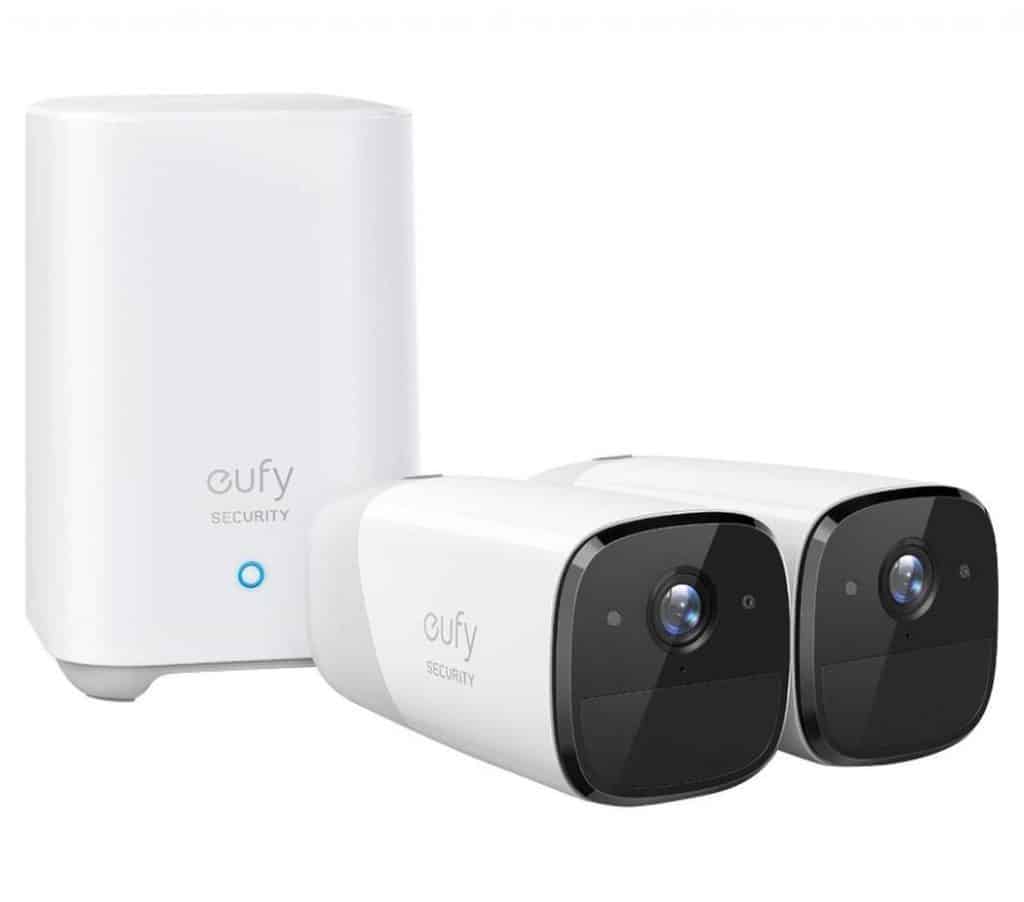 This outdoor camera set includes two cameras as well as a hub that is required to utilize the cameras. The cameras are waterproof, so they're ideal for protecting your home's outside, though they may also be utilized inside. 
The photos are vivid in 1080p HD, and sophisticated night vision enables you to view what's going on at all times. The setup is a little more complicated than with the interior cameras, but most homeowners can handle it on their own. 
The cameras' ability to maintain a charge for an extended period is a notable feature. The battery may last up to a year after being fully charged, which takes around 12 hours.
They also include two-way audio, which you can utilize to communicate with family members or to frighten anyone who shouldn't be around your premises. While the lag time isn't severe, it might lead you to miss the start of some events.
Does It Offer 24/7 Recording Capability?
Unlike the one before it, the EufyCam 2 doesn't offer 24/7 recording. Sadly, you can only set a recording segment length of 60 seconds. Regardless of the battery lifetime. This specific feature isn't available yet with this model.
So, no, it doesn't offer 24/7 recording capability. 
The EufyCam 2C cameras have a simple design with a camera lens and curved edges on the glossy black side, with a motion sensor and a spotlight below. 
They come with a white tower-shaped HomeBase 2 to connect to your WiFi. With an Ethernet cable, you connect it to the back of your router.
It just takes a few minutes to set them up. First, download the EufySecurity app. Then, sit near your router. Next, follow the app's instructions for each device, starting with the HomeBase. 
You can save around three months' worth of footage on the 16GB HomeBase at a time. Eufy 2C protects your data using 256-bit account encryption and 128-bit video encryption, ensuring that only you have access to it.
Does It Offer 24/7 Recording Capability?
Unfortunately, this model of Eufy doesn't offer continuous recording at the moment. 
Why Other Eufy Products Normally Don't Offer 24/7 Recording
There are a variety of reasons why their other security cameras don't record continuously. 
The fact that continuous recording would need the installation of Eufy security cameras on the mains is the primary reason, as it would make the security mechanism less viable.
To accommodate for the added video, the base station would also require a lot more memory. Plus, sifting through all of that film may be a tremendous nuisance.
How to Get Around This Issue While Using Eufy
If you want to get around the 24/7 recording issue without upgrading to a Eufy Video Doorbell 2K, there might just be a way to work around this issue. 
When individuals look for a security camera that can record constantly, they are looking for a feature that allows them to do so. What they really want is to be able to view what the security camera is seeing right now. As if it were a two-way intercom. For example, a Ring doorbell.
The good news is that a Eufy security camera can technically achieve this. This entails transferring the security camera to Home Kit. You'll be able to see the real-time footage without interruption from there:
Homekit integration can be used as a workaround. Yes, this consumes more battery power, but you can easily switch off the app on your phone to stop it from viewing continually. You may also look for ways to film the footage in-home care, but I haven't worked out how to accomplish it yet.
Conclusion
Eufy provides nearly everything you'll need to keep your house safe. Its gadgets are stylish, inexpensive, and useful. It's also safer than cloud-only solutions because of its privacy guarantee, powerful encryption, and local storage alternatives.
So, does Eufy now offer 24/7 recording capabilities? The answer is yes, some models of Eufy now offer continuous recordings, and these are the Eufy Indoor Cam 2K, and, more recently, the Eufy Video Doorbell 2K Pro. 
The continuous recording might be a finicky thing to deal with, requiring a specific setup and high memory capabilities. However, you might just find what you need with Eufy's products. The video quality is fantastic, and the devices are simple to install and use.