Our world is becoming more fast-paced by the second. With this speed, you can expect most people to look for a faster Wi-Fi connection.
The most high-speed Wi-Fi connections work at 5 -GHz (6-GHz Wi-Fi also exists, but it's less common). Nevertheless, the majority of internet users – and electronic devices – stick to a 2.4-GHz Wi-Fi connection for several reasons.
One of the motives is the wide availability of smart plugs that support a 2.4-GHz connection, rather than a speedier 5-GHz one. But if you value your internet speed above all else, stick around to find smart plugs with 5-GHz Wi-Fi support.
Defining Smart Plugs
Before getting into the details of a smart plug that supports a 5-GHz connection, you might want to get a better idea of how smart plugs work.
This sort of plug allows you to connect and control any appliance in your home such as your air conditioning, slow cookers, or television, while you're away.
All you have to do after fixing the smart plug to an outlet is to download the smart plug's app on your phone, and then use Alexa or even your voice to activate it. Next, you'll just need to adjust your appliance settings to your liking. 
For example, if you connect your smart plug to your lamp, you can use your smart plug app or ask Alexa to turn the lights on and off.
5-GHz and 2.4-GHz: Which Is Better?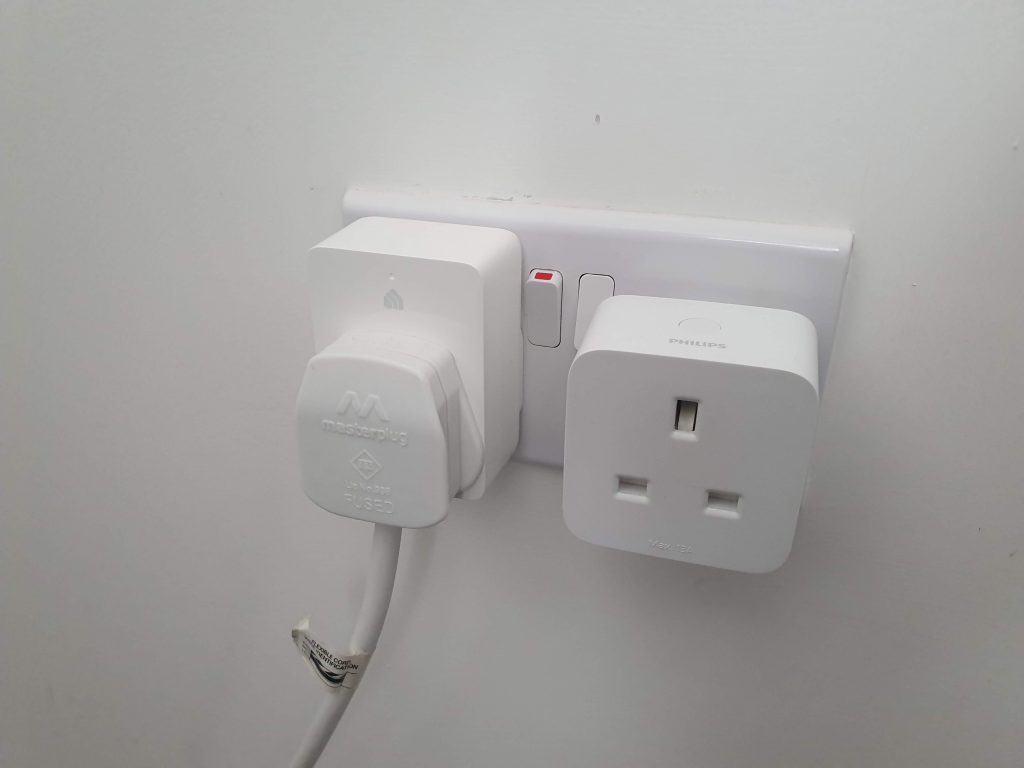 When it comes down to both 5-GHz and 2.4-GHz Wi-Fi connections, the main difference lies in their speed and range. In other words, you might have to compromise one for the other.
While a 2.4-GHz connection is not as fast as a 5-GHz Wi-Fi connection, it wins in range. The lower speed connection can cover larger areas, making it a better option for offices and workstations. The maximum speed of a 2.4-GHz connection is approximately 450-600 Mbps.
A 5-GHz connection is coveted as the fastest internet out there, but it lacks a wide range and is limited to smaller spaces.
The high-speed connection has smaller risks of interference and disturbances (the 2.4-GHz band is more congested) and has a speed of up to 1300 Mbps. Yet, it struggles to connect through solid walls or objects.
That being so, it all depends on your requirements and whether you prioritize your connection's speed or range.
What to Consider With 2.4 and 5-GHz Connections
If you're still unsure about which connection is the right one for you, here are some factors that might help you be more certain.
Home Size
If you're trying to connect your Wi-Fi to a lot of rooms in your home, then a 2.4-GHz connection is the way to go. A 5-GHz Wi-Fi connection is better suited if you have a small flat or an apartment with minimal walls.
Devices Connected and Frequency of Usage
How you use your bandwidth also matters. Streaming content like watching Netflix or Youtube would need a faster connection. This would call for a 5-GHz band. If you're a gamer, a 5-GHz Wi-Fi connection will give you a more seamless experience as well.
Just browsing the internet or doing some research? You wouldn't need much speed, making a 2.4-GHz band the better option.
Regardless of whether you choose 2.4 or 5-GHz, you need to make sure that your router and device operate at the same frequency to get the most out of your Wi-Fi connection.
Interference
In this context, interference usually means other devices disturbing the connection. This can include a baby monitor, using Bluetooth, the microwave, and other devices. 2.4-GHz Wi-Fi is susceptible to these interferences.
5-GHz is stronger in this factor. As long as you're close to your connection, there should be little to no disturbances in your Wi-Fi usage.
Can a 5-GHz Router Work With a 2.4-GHz Smart Plug?
If your router's settings are fixed at 5-GHz, that doesn't mean you can't still use a 2.4-GHz smart plug. Chances are, the router is dual-band and works well with both 2.4 and 5-GHz Wi-Fi connections.
If the router doesn't have a dual-band connection, then it's probably not fit for a 5-GHz connection. That being so, you should be able to work fine with a 2.4-GHz smart plug and a 5-GHz Router.
Getting a Smart Plug for a 5-GHz Connection
Since the most commonly used band is a 2.4-GHz connection, the majority of smart plugs are compatible with it. As for the 5-GHz Wi-Fi band, the market for a compatible smart plug is still emerging.
Because there aren't that many 5-GHz smart plugs out there, you may want to consider investing in a dual-band router from the get-go. This way, you'll always be able to use smart plugs that only support 2.4 GHz of bandwidth.
While there are only one or two smart plugs that purely support a 5-GHz band, there are more that can give you both a 2.4-GHz and 5-GHz connection. Here are some examples for a smart plug with 5-GHz support and dual-band support. 
Even though this smart plug was one of the best on the market, it's been discontinued by the manufacturer. This doesn't mean we can't tell you about its awesome qualities, right?
Usually, smart plugs require a hub or central device to operate, but that wasn't true for the Leviton DW15P-1BW outlet. This hubless smart plug was more convenient since it didn't need to connect to too many devices.
When it was available, you could connect to it using its application, which contained several options. The device was able to schedule the timings of when any appliances should turn on or off.
Plus, one of the things that people loved about the Leviton is that it came with a vacation-friendly feature that turned on your light to make sure no intruders came in. This made it an exceptional security tool.
Also, this smart plug was compatible with other third-party devices. This means that it would've had you covered if you already had a home assistant like Alexa.
The Sengled G2 is known for its user-friendliness. Its design is sleeker and more compact than other smart plug-ins. 
The smart plug-in features a hub that controls almost everything since it's connected to all appliances. You can use the product's hub, Sengled Smart Hub, or other compatible hubs such as the Samsung SmartThings Smart Home Hub. 
If you already have an Amazon Echo Plus, then a hub isn't necessary. Installing the plug-in is simple. You just need to download the Sengled Home app to set everything up. The product is also considerably more affordable than other smart plugs. 
This smart plug claims to support both 2.4-GHz and 5-GHz: it even says it on the box!
However many of the Amazon reviews claim that the Broadlink app only finds 2.4-GHz Wi-Fi connections, so it is unclear just how good the 5-GHz support is.
How to Set Up a 5-GHz Connection For Your Smart Plug 
If you're looking for a way to get a 5-GHz Wi-Fi connection for your dual-band smart plug, look no further! Here are some easy tips on how to get you started.
Before starting, you need to check if your smart plug would be compatible with the Wi-Fi frequency
Since the default for most connections on a smart plug are set to 2.4-GHz, you'll need to reset the setting
Click on your setup option in the smart plug to establish your router 5-GHz connection
If you're still facing issues with this setup, you might want to contact your smart plug provider or a tech professional to help you out.  
How to Turn a 5-GHz Connected Device to a 2.4-GHz One?
You can easily set up your device for a 2.4-GHz connection if it's dual-band. Here's how:
If your router offers both options first-hand, choose the 2.4-GHz connection
Check your router's admin page. Choose "connected devices" and pick the 2.4-GHz  connection, or deactivate the 5-GHz option
To Conclude
Do you really need a smart plug with 5-GHz Wi-Fi support?
Well, a 5-GHz connection can prove useful if you always stream or download movies, music, games, etc. In that case, getting a smart plug that supports 5-GHz Wi-Fi isn't a bad idea. 
Yet, because there aren't many of those available out there, your best bet is to switch to a dual-band smart plug instead.
Either way, we hope you find the most convenient smart plug for your space.