We are closer than ever before to live the life portrayed by The Jetsons – at least when it comes to video calling capabilities, anyway!
Video calls have skyrocketed in popularity in just the last few years.
People just love the option to look at the folks that they are talking with live on HD video calls rather than picking up the phone and talking into the ether.
And while lots of folks choose to do video calling through their mobile phone (especially since today's phones have amazing HD cameras built right in), more and more people are picking up devices like the Echo Show from Amazon.
These standalone videoconferencing devices are game-changers, not only simplifying the videoconferencing process but also offering a larger screen and better camera format that improves the quality significantly.
If you've been thinking about picking up an Amazon Echo Show to get into video calls yourself you'll want to check out our detailed breakdown below.
Let's get right into it!
Breaking Down the Echo Show Models
Like most every other piece of hardware, Amazon makes these days there is a range of different models available in the Echo Show lineup. But they all have the same basic features: news update, recipes, playing music, reminders and more.
As of right now (late 2023) you'll have the chance to get your hands on the last Echo Show 15, the Echo Show 8 of 2nd and 3rd generation and the Echo Show 5 of 3rd generation.
Let's quickly break these options down so you have a better idea of which one might be best suited for your needs.
Echo Show 5 
The smallest of the bunch, this Echo Show model has a 5-inch touchscreen that doubles as the videoconferencing screen. This makes the unit very compact, very lightweight, and easy to deploy pretty much anywhere – all without sacrificing HD fidelity.
Lots of people like this unit because of its form factor. Other options (the 8 and the 10) are much larger, but this one is about the size of an alarm clock. It sets up pretty much anywhere and doesn't lack any of the features of the other Echo Shows.
Echo Show 8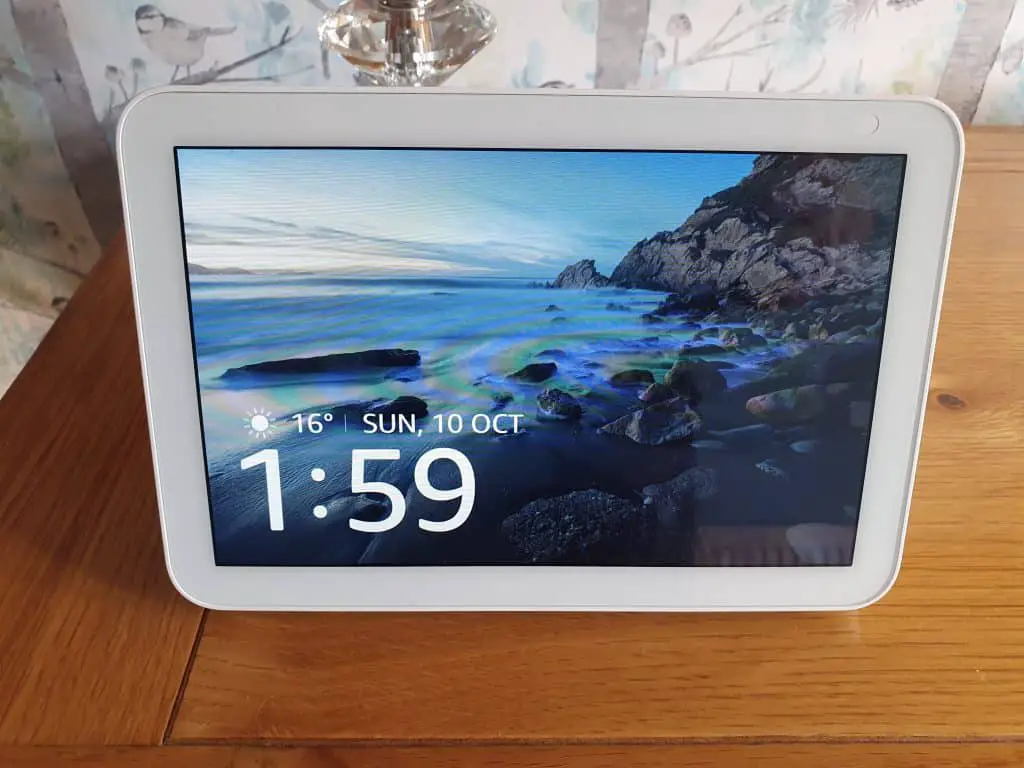 A slightly larger improvement over the Echo Show 5, you get an 8-inch diagonal touchscreen with this Amazon device. The resolution on this is a little sharper, which results in cleaner and more consistent picture quality and the camera is a little bit better, too.
At the end of the day, though, the extra screen real estate is the major differentiator between the Echo Show 8 and the Echo Show 5. If you want more space to really see the people that you are video calling this is the way to go.
Echo Show 10
The second expensive of all the Echo Show devices, the Echo Show 10 has a couple of features that help to separate it in a big way from the other two options.
For starters, instead of a one-megapixel front-facing camera on the 5 and the 8, you're going to get a 13-megapixel front-facing camera on the Echo Show 10.
That's a game-changer, especially if you're concerned with the quality of video you are sending out to the people you are connecting with. The difference between a one-megapixel and a 13-megapixel camera is night and day.
Audio on the Echo Show 10 is also quite a bit better. That's because Amazon found a way to shoehorn two 1 inch tweeters and one 3 inch subwoofer "under the hood" of this larger unit.
Combine all of that with a much larger screen (10 full inches diagonal) operating at a 1280 x 800 resolution for true HD experiences and it's tough to go with anything other than the Echo Show 10 if you're going to be making a lot of video calls in the future.
Echo Show 15
The 15.6″ full HD of the Echo Show offers the largest touchscreen so far, released on December 2021 .
Unlike previous models, it can be wall mounted which helps give your home a proper "smart home" feel.
Alexa Drop In with the Echo Show
Amazon makes it really easy to get into the world of video calls with their own video chat service called "Alexa Drop-In".
This service is relatively new compared to the other options on the market (especially options like Skype, Zoom, and Microsoft Teams which have all been around for what feels like forever), but it's still a solid service all the same.
The best thing about the Alexa Drop-In service is that it "just works" right out of the box, either from another Echo Show or within the Alexa app.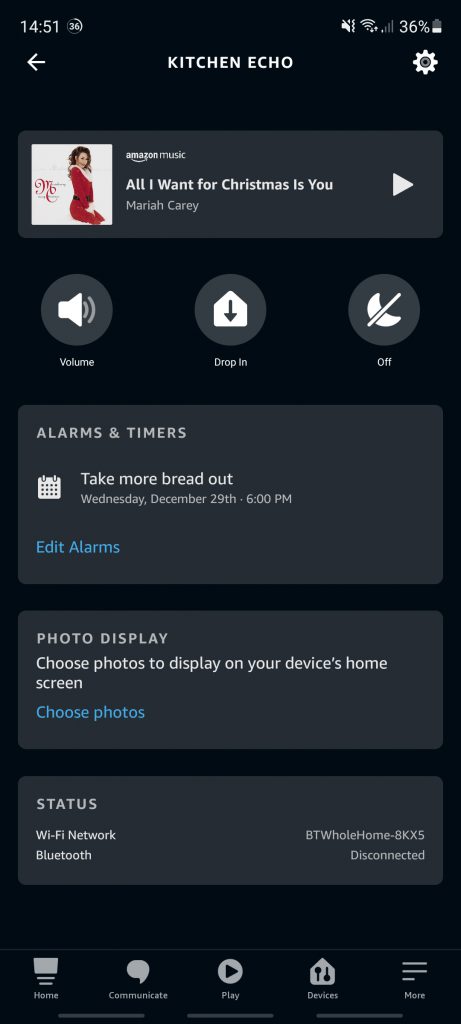 This service is available with every single Echo Show device, making it easy to call up and connect with people that you know that also have this kind of hardware.
You can also download the Alexa mobile app for iOS and Android devices to connect to Echo Show units via your phone or tablet, too. The initial configuration there should be fairly simple: just login to the same account that the Echo is registered to, or ensure that the account owner adds you as a contact.
Video Chatting on the Echo Show
A lot of other video call services work with the Echo Show hardware, though each of them requires its own configuration process.
Some are definitely easier to set up than others.
Let's run through a couple of the video calling services you'll be able to use with your new Echo Show 5, 8, or 10 unit.
Skype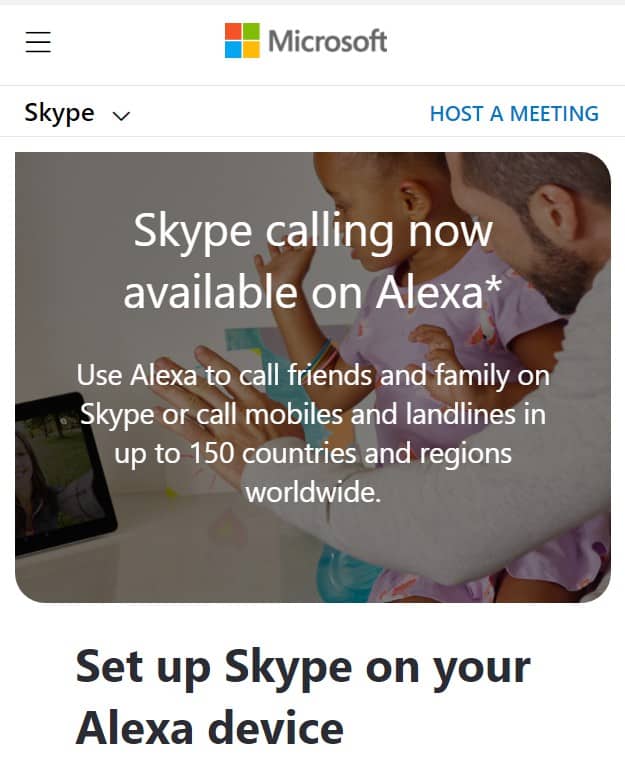 The beautiful thing about Skype is that it comes with full support from Amazon for the Echo Show hardware.
You'll be able to enjoy a significantly streamlined experience thanks to this partnership. You'll still have to download the app to the Echo Show, though, but the configuration is about as easy as one, two, three. The whole process takes about five minutes from start to finish.
Now you'll be able to video call anyone with a Skype account from your Echo Show. And anyone with a Skype account will be able to call your Echo Show directly, too.
Zoom
Zoom support is only available on the Echo Show 8 as of late 2021.
There are plans to add support for both the Echo Show 5 and Echo Show 10 later on, but right now this video call software is only going to work when you are using the 8 models.
To really make the most out of Zoom with that Echo Show unit you'll want to connect Zoom via your Alexa calendar. That'll help you better keep track of your scheduled video calls but also makes putting together outgoing calls a lot simpler, too.
Microsoft Teams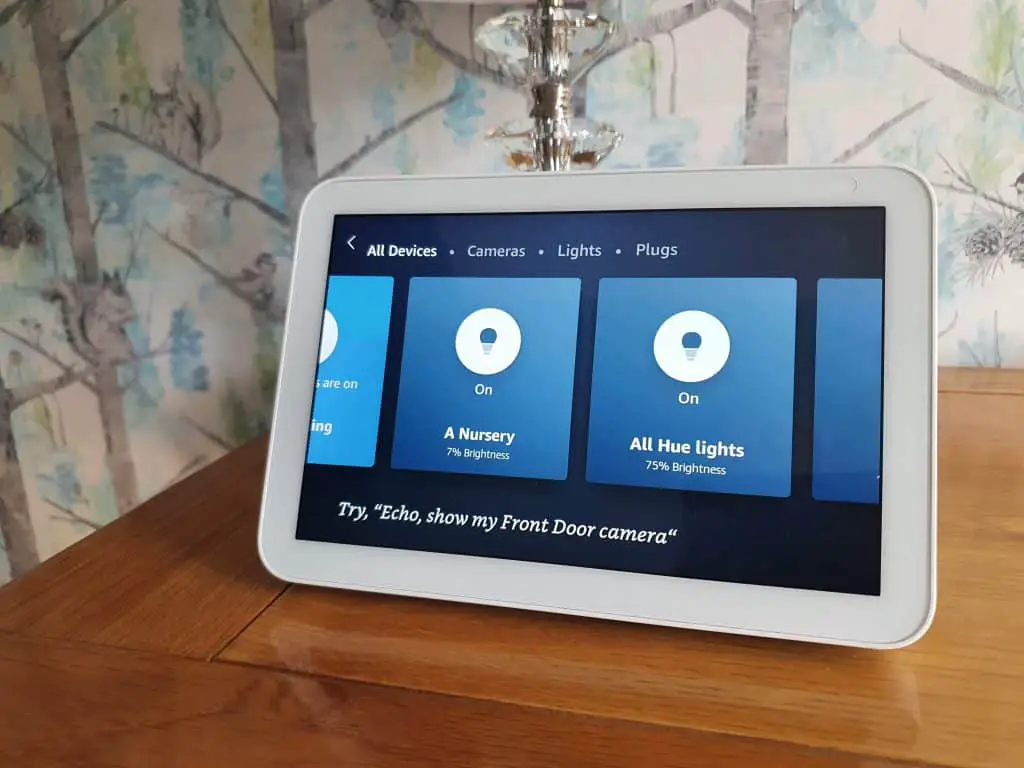 Amazon Echo Show devices do not have "official" support for the Microsoft Teams video conferencing and messaging services, but there are some clever workarounds you can use to leverage this software all the same.
It's expected that an official Microsoft Teams option will be forthcoming for these devices, especially since Amazon Alexa has full integration with the Microsoft Office 365 framework.
Right now, though, you're going to have to cobble something together if you want to jump on video calls through Teams.
The easiest way to pull this off is to track down any of the .NET MS Teams bots that you can find on the open-source Github repository.
You might have to try out a couple of different options before you find one that works well and has ongoing support. But if you're a big Teams user this is going to be a little bit of extra effort that more than pays off later down the line.
You can also go with third-party API integrations that combine MS Teams support with Amazon Alexa Echo integrations. Zapier is a (paid) option that you might want to consider.
It's definitely easier to set up than running through the open-source Github options, but you might not want to keep ponying up money every month just to use Teams with your Echo Show.
WhatsApp
Unfortunately there just isn't any Alexa Echo Show support for the WhatsApp messaging service, and it doesn't look like there is going to be any support in the near future, either.
This isn't all that surprising when you consider the fact that WhatsApp is owned by a major Amazon competitor in Facebook. The odds are pretty good that any compatibility between WhatsApp and Echo Show devices will have to come from unofficial third-party sources.
Discord
Believe it or not, Discord is the easiest of all the "unofficial" video call services to connect to with your Echo Show devices.
All you have to do to jump on a Discord video call is tell your device to open up a browser via Alexa and then navigate over to the Discord.com website.
Punch in your credentials and you'll immediately be given a mobile-ready version of the Discord interface that looks identical to the mobile app.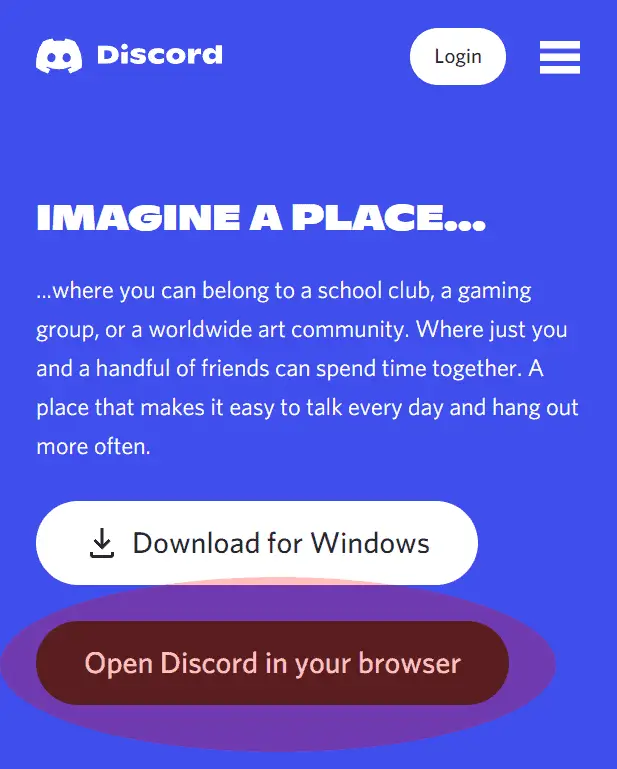 From here all you have to do is start a Discord conversation and video call the same way that you would on any other device. You are good to go!
Facebook Messenger
There's no real support for Facebook Messenger for the same reason that there's no real support for WhatsApp, either. Facebook isn't interested in "playing nice" with Amazon hardware right now.
Google Duo
Google Duo integration is also next to impossible to figure out right now on the Echo Show device lineup.
Google likes to keep their stuff in the house for the most part, and it's unlikely that there's going to be an official app to integrate these two pieces of hardware in the near (or even far-flung) future.
Closing Thoughts
At the end of the day, there are plenty of options available to knock out high-quality video calls with your Echo Show.
Obviously, the native Drop In-app from Amazon is going to be the easiest of the bunch to use.
But after that Discord is pretty effortless, Skype is a breeze to use, and even Microsoft Teams can be configured with just a little bit of extra effort.
Aside from that, though, you're going to have a tough time integrating any of the other video calling services on the market today with your Amazon hardware. That could change in the future but right now you're limited to the options we highlighted above.