When Ring launched its first floodlight smart cam, it quickly became a high-end home-security trend. 
People loved the idea of a motion-activated camera that "floods" its target with light. That meant better video quality during the night and an added sense of protection. Who wouldn't want that?
However, many potential buyers wonder about the lighting on the camera. Is it dimmable? Is it fool-proof? Can you customize its lighting schedule? What makes the new releases better?
With a thorough Ring Floodlight Cam lighting guide, we'll answer all your questions (and more!) Let's see if this high-tech floodlight camera stands up to the hype.
Ring Floodlight Cam Lighting Guide
The newly released versions are the Ring Floodlight Cam Plus and the Ring Floodlight Cam Pro. Both must be wired into your home's electric supply, and both versions come with two color options (black and white.)
Choosing a fancy finish isn't an issue (both are very minimalistic!) When you take a first look at the Floodlight's settings, the sheer amount of options might be overwhelming initially.
To make the most out of your smart camera, you'll need to know its features. After all, you're paying for the advanced software and all the extra controls.
Here are the most common lighting settings that you should know before buying your first Ring Floodlight Cam:
How to Light Up a Ring Floodlight Cam
A feature that we found particularly useful on the camera is the light switch. Without being motion-activated at all, you can choose to turn on the lights from the Ring app's front page.
Light timers don't apply in this case and they'll stay on till you turn them off again through the app.
How to Set Lighting Schedules on a Ring Floodlight Cam
Under the light setting in the Ring app, you can set a lighting schedule. You can choose to keep it on during specific hours. This saves you the hassle of having to switch it on and off daily.
You can also change the settings for different days of the week, although this is only to specify whether the schedule applies to that day – it doesn't allow day-by-day configurations unfortunately.
How to Dim Lights on a Ring Floodlight Cam
The Ring Floodlight Cam's lighting power can be too strong (a whooping 2,000 Lumen!) for some people. Thankfully, that's customizable, too. 
Through the Ring app, you can dim the lighting to your liking. This option is available on the new releases (Pro and Plus) only, though – the original 3 year old Ring Floodlight Cam does not offer this feature.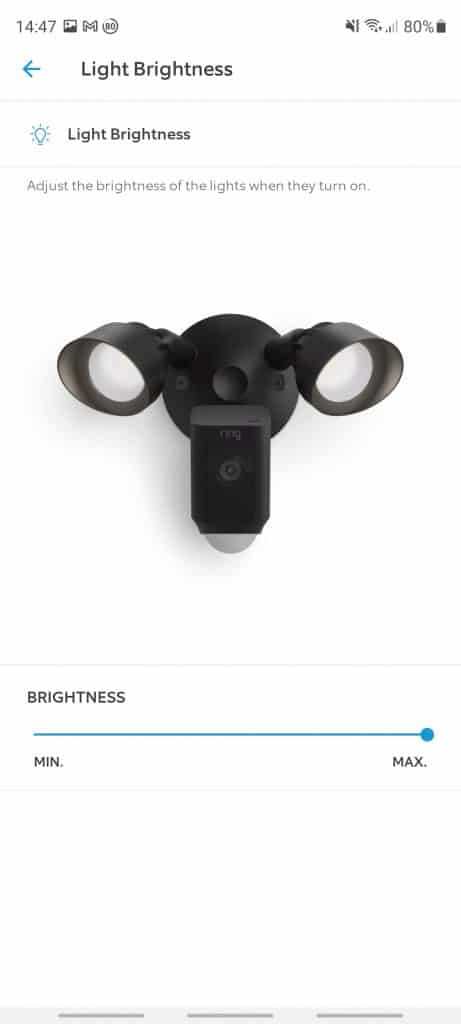 The original version ran on light-emitting diodes, which have a fixed intensity.
How to Limit the Lighting Dynamic Range for Ring Floodlight Cams
The new Floodlight Pro cam covers 140° horizontally and 80° vertically. This ensures wide coverage for backyards and entryways.
Some people might prefer to limit this range of detection. This works best if you're going to be walking around the camera a lot and want to avoid triggering the light every time.
From the mobile app, you can select the zones to activate/deactivate. Under the "Advanced" settings you can select any zone to activate/deactivate it. 
For instance, you can limit the range to your front lawn to avoid alerts from every passing car on the road.
Keep in mind that this doesn't affect the camera's motion sensor. If you're looking to limit the camera's range, you can use the "Privacy Zones" feature: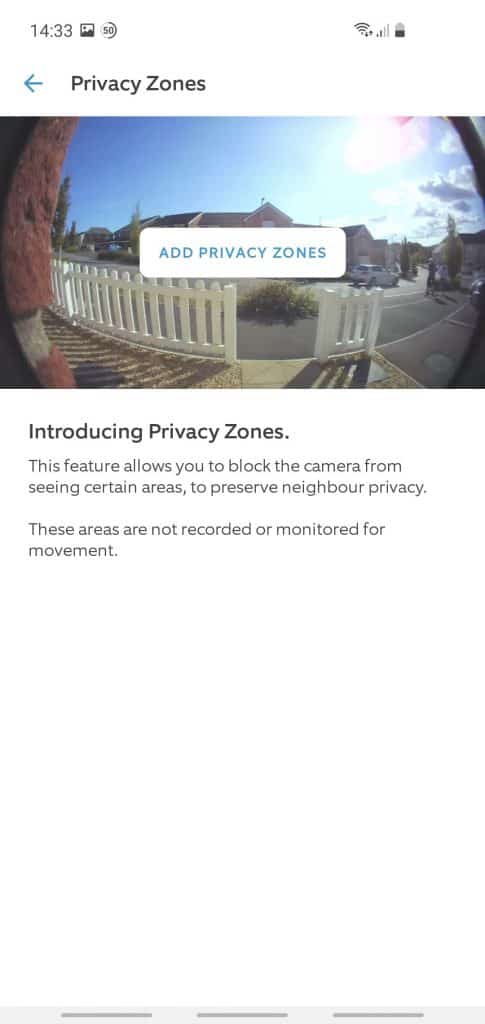 How to Solve Flickering Issues in a Ring Floodlight Cam
Ring smart cameras are designed to offer the best net of protection. However, there were a few cases of flickering that we heard of.
This might be due to high sensitivity where minor movements keep triggering the lights. If this happens, try switching the "People Only" feature to limit the sensitivity.
Other than that, you should have a smooth experience with the Ring Floodlight Cam.
Ring Floodlight Cam Pro vs Ring Floodlight Cam Plus
The Floodlight Cam Pro would be our first choice if money isn't an issue, it's more advanced and luxurious. Yet, the Plus model is still a great, reliable option.
Before you decide between Pro and Plus, let's take a look at the Floodlight Cam Pro's exclusive features:
3D Motion Detection and Bird's Eye View
The Ring Floodlight Plus model has standard motion detection. Meanwhile, the Pro model uses radar 3D Motion Detection.
This feature helps gather data about the distances, angles, and relative positions of the objects in motion up to 30ft in front of the camera's lens. This takes us to the Bird's Eye View feature.
Bird's Eye View is exactly what it sounds like. The smart camera can track the path that a person takes on your property with the data it collected.
On the cloud, you'll be able to check an aerial mapping that shows you how the person walked around the house. It's all very fancy and high-tech!
To set up the Radar 3D Motion Detection feature, the app redirects you to a satellite map. There, you'll find a prompt to pin the camera's exact location and coverage range. You'll also have to fill in installation info like the camera's height and angle.
The 3D Motion Detection works best when the Floodlight Cam is set between 45° and 60° off the wall. For more angled installations, you can contact Ring support.
Audio+
Both the Floodlight Cam Plus and Pro allow a two-way audio transmission and effective noise cancellation. 
The Pro model has additional Audio+ programming. This means higher quality and clear sound transmission.
Siren
The siren on both models is remote-activated and surprisingly feisty. Who knew a tiny little device could make that much noise!
Keep in mind that the Pro model has a slightly louder siren at 110 dB compared to 105 dB in the Plus model.
Dual-Band Wifi
The Ring Floodlight Cam Pro is compatible with both a 2.4GHz and a 5GHz 802.11 b/g/n/ac Wi-Fi connectivity.
It uploads to the Ring Protect Cloud at a 2Mbps speed and ensures a seamless real-time view: and remember, a Ring subscription is pretty much essential nowadays.
Meanwhile, the Ring Floodlight Cam Plus is missing that extra 5GHz Wi-Fi connectivity. The Plus camera can run on a minimum upload speed of 1Mbps, while the Pro needs 2Mbps at least.
Why Floodlight Cams?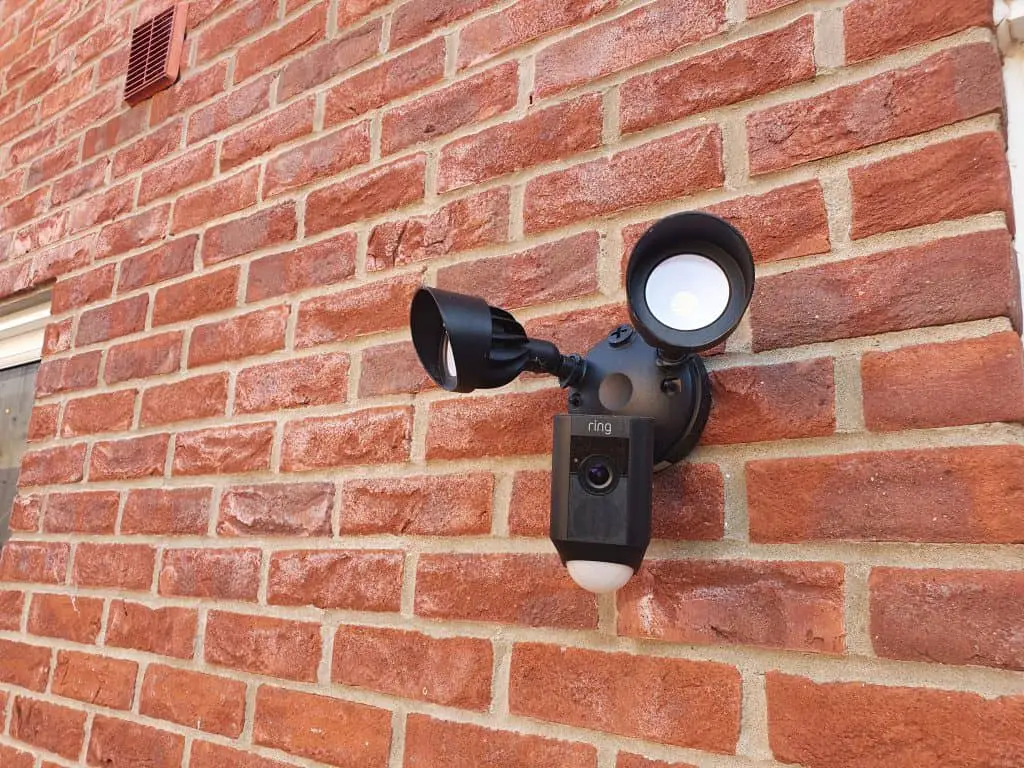 There are many reasons why people are getting more and more motivated to buy Floodlight Cams.
Who wouldn't want a motion-activated, Cloud-backed, smart security camera on their property? Especially with enticing features like aerial mapping, Rings are hard to resist.
While the Plus cam is a little more affordable than the Pro, they're both considered pricey products. In our opinion, you're getting your money's worth of security features with Ring Floodlight Cams.
Feature Highlights
Here are the top features that we loved in Ring's Floodlight Cams:
Motion-Activated "People" Alerts
What's so great about the Ring's smart cameras is that they're cloud-compatible. This means mobile alerts whenever the sensor detects motion in front of the camera.
One motion sensitivity setting that we found noteworthy is the "People Only" feature. Switching this on limits the alters to motions triggered by humans only. No more notification floods every time your pet goes hyperactive!
Real-Time View
Even if your Ring Protect subscription runs out, you can still see a real-time view from your camera. You can use the two-way talk audio feature, remotely activate the siren, switch off the light, and more.
Keep in mind that recording and re-viewing older videos require a subscription, though.
Light Intensity
Ring increased the light intensity on their Floodlight models from 1,800 to 2,000 lumens. The color temperature is still at 3,000° Kelvin, though.
Audio/Video Quality
The video quality on the first Floodlight Cam model was already impressive. Yet, Ring knocked it out of the park with updated (1080p) HDR and colored night vision on the new releases.
Ring's smart cameras offer two-way audio connectivity with noise cancellation. Don't forget the Audio+ for the Pro model!
Wear Resistance
Both the new releases can handle temperatures between -5°F and 120°F. Some say that the older Floodlight Cam's frame had more resistance to it, but it's nothing too severe to worry about.
Warranty
Without a Ring Protect Plus or Pro subscription, Ring offers a 1-year limited warranty on its security Floodlight smart cameras. You also get software updates and free trials on Ring Protect.
Total Control
Being integrated into a smart security cloud makes the camera very convenient. The cloud storage allows you to recall older videos and Bird's Eye View maps.
The Cloud isn't just about retrograde protection, though. With a user-friendly app, you are connected to your security system anywhere, anytime. The app lets you share videos and link all your Ring products in one convenient interface.
Wrapping Up
We hope this Ring Floodlight Cam lighting guide helped shed some light on the product's features, controls, and overall benefits.
Between the two new releases, the Ring Floodlight Cam Pro model is more advanced. The Bird's Eye View alone seals the deal for us.
To get a wider net of protection for your property, we recommend going for a Ring Protect subscription. It's convenient and provides complete control over the smart cameras.