Philips Hue is rightfully one of the leading smart lighting companies. But doesn't it get a little bit confusing when browsing through their product line?
Essentially, there are three types of Philips Hue smart bulbs: Hue White, Hue White Ambiance, and Hue White and Color Ambiance.
The Hue White and Color Ambiance, in particular, costs five times the price of Hue White and can create a wonderful personalized experience in your smart home, but is that really what the average consumer is looking for?
Enter the Hue White and Hue White Ambiance bulbs. No colors, but a wide array of advanced features and capabilities that make your smart home, well, smarter.
This article will talk extensively about the Philips Hue White vs. White Ambiance smart bulbs. I'll cover their similarities, what sets them apart, and finally, which one you should go for in your smart home.
Let's dive right in!
Introducing the Philips Hue White
Philips Hue White bulbs offers a wide array of smart features and capabilities. It comes in 800, 1100, and 1600 lumens and emits only one shade of white: soft white light.
Soft white light is a shade of warm white. Unfortunately, it's set at 2700K, and you're essentially stuck with this color temperature. 
"Color temperature" refers to where on the Kelvin light scale the light is:
Like a standard warm white light bulb, you can't make the light warmer or cooler. However, you can dim the warm white light using a Hue Bridge or Bluetooth.
There's also a feature called instant wireless dimming, using a dimmer switch or the app. Using this feature, you can set the lights to get progressively dimmer as it gets darker outside.
Remember, Hue White Ambiance has a similar feature where you can set light presets. However, it's much more than simply dimming or brightening the lights. We'll get to that in a second.
The Hue White smart bulb is perfect for functional spaces, reading a book at night, or having guests over. With that said, there are various activities where you'll feel like you need a cooler white light instead.
Introducing the Philips Hue White Ambiance Bulbs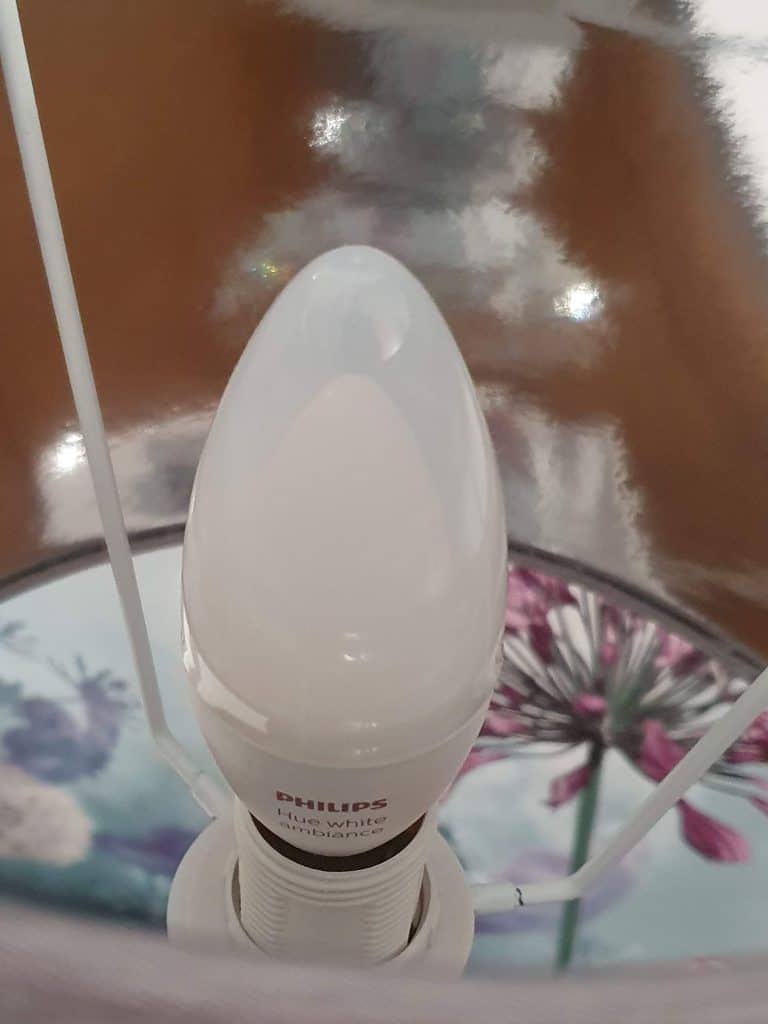 The Philips Hue White Ambiance offers the same brightness options of 800, 1100, and 1600 lumens but comes at a higher price tag: often double the pure-White bulbs.
I love the Philips Hue White Ambiance because it's an all-rounder smart bulb. The Hue White bulb only comes in soft, warm white at 2700K. The Hue White Ambiance, on the other hand, can go from 2200K to a whopping 6500K!
This can be obtained by issuing a voice command, using a Hue accessory which is paired to the Hue Bridge, or within the Hue app itself:
Let's Put This Into Perspective
The Hue White Ambiance features 50,000 shades of white light. It can go from warm white to cool daylight and everything in between.
So, whether you want a warm, cozy atmosphere, or a cool, contemporary look, you can have that with the click of a button.
Here are some of the light scenes you can choose from:
Concentrate
Energize
Read
Relax
Each light preset is suitable for a specific time of the day. For example, the "Energize" preset is perfect for getting out of bed with a moderately cool white light.
The "Concentrate" preset takes the color temperature all the way up to 6500K, allowing you extreme focus over the task you have at hand.
The "Read" and "Relax" presets are on the warmer side of the white light. They're meant to make you relaxed and at ease. Perfect for evenings and right before you sleep.
What Sets Them Apart
So, does Philips Hue White offer the same features? Unfortunately not. The most you can do with the Hue White bulb is to dim the 2700K warm light when it's too bright.
You'll find how valuable the Hue White Ambiance bulbs are when you're working at your desk, getting ready to go out in the morning, or cooking in the kitchen.
These are times when you want to be alert and focused, not relaxed. Cool white represents the colors as they really are and is much better suited for practical applications.
This means that the warm light bulbs alone will feel out of place at times. The Hue White Ambiance not only gives you complete control over the white color temperature but also gives you light scene presets to choose from.
This will work just fine in settings where you're reading a book, going to sleep, or having a relaxing evening. However, its limitations will start to surface when you need a little bit of cool daylight in your house.
My Personal Experience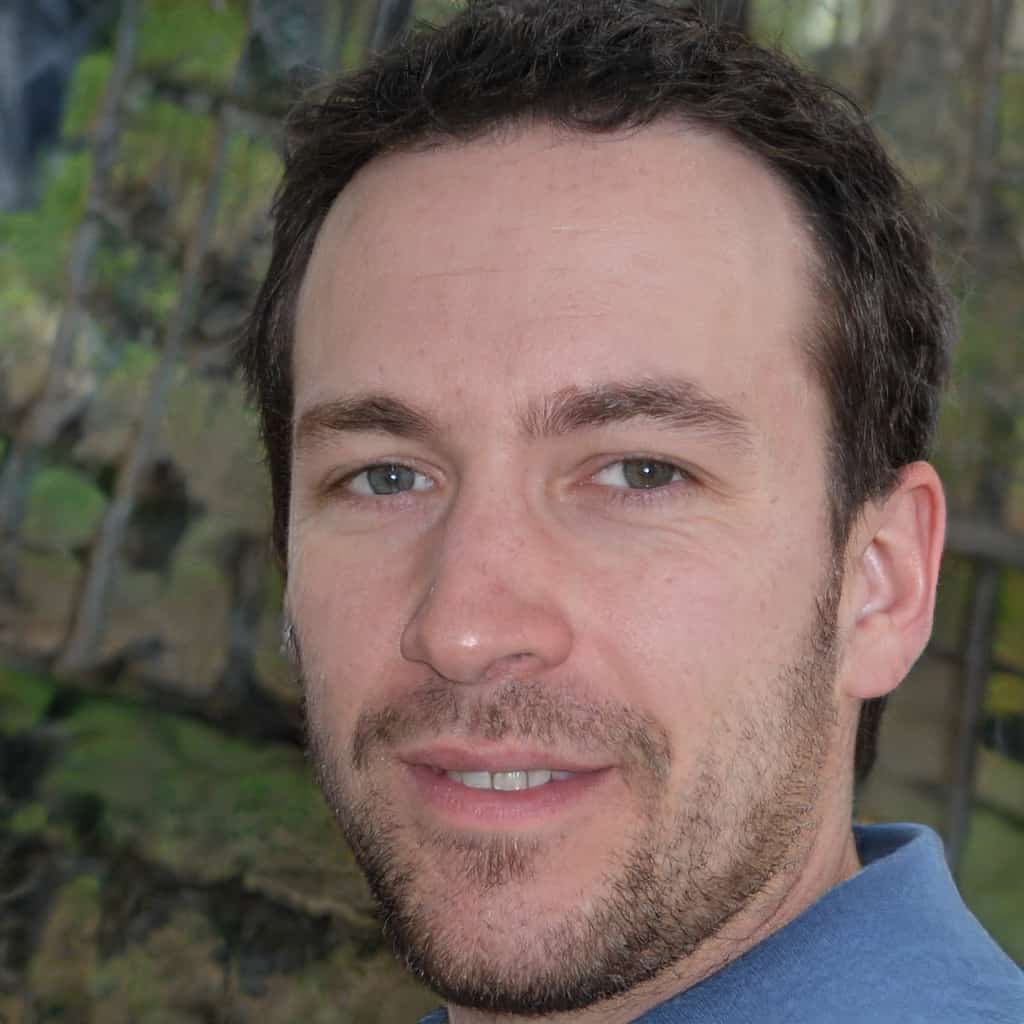 I bought the Philips Hue White smart bulbs and was completely satisfied with them. When the warm light became overbearing, I used to turn them off and turn on some cool white bulbs instead.
It wasn't until I bought the Philips Hue White Ambiance that I realized what I was missing.
Once your whole house becomes equipped with these smart bulbs, the entire experience becomes seamless.
The light presets in the app are now indispensable to me, and I use Alexa to control the light setting around my house.
Don't get me wrong; this was all possible with the Philips Hue White bulbs on their own. However, you can't rely on the soft, warm white all the time, and you'll have to buy cool white bulbs to balance it out.
This becomes an issue if you buy bulbs from another company because you won't have that "seamless" control over your house lighting like before.
Is the White Ambiance Worth the Extra Cost?
The only issue you're going to have with Philips Hue White Ambiance is the price (don't get me started on the Hue Color Ambiance at $50 each!). The Hue White bulbs are roughly half the price of the Hue White Ambiance.
Whichever Hue light bulb you buy, you should avoid the base lumen light bulb and go for the medium or high lumen option.
The base lumen is the standard 10W Philips smart bulb and produces 800 lumens. Although still largely functional, competitors like LIFX offer significantly brighter bulbs (1100 lumens) that come at a more affordable price point.
With more and more people shifting to higher lumen output, you'll most likely find a better deal on Philips medium lumen smart bulbs.
The medium lumen 10.5W LED bulbs take brightness up a notch, with a lumen output reaching 1100.
The high lumen 17W LED bulbs are Philips' brightest bulbs yet, with a lumen output reaching 1600. This is equivalent to a 100W incandescent bulb!
Whichever lumen output you choose, you'll find Philips Hue White and White Ambiance available.
If you don't mind the hefty price tag, you won't be disappointed with the Hue White Ambiance. However, if you're a budget-conscious person like me, then you have two options.
Which One Should You Buy?
The first option is to simply wait for a huge sale or buy the Hue White Ambiance bulbs one by one. I pretty much changed my whole home lighting setup on Cyber Monday. I got an incredible deal on ten Hue White Ambiance bulbs and moved all my lights to the Hue Bridge.
The second option is to stick to the Hue White bulbs and buy some cool white bulbs from another brand (or even the non-smart Philips cool white bulbs).
You won't have complete control over your lighting setup, and you'll have to resort to manually flicking switches to reach the optimal color temperature and brightness.
In all honesty, I can't imagine returning to the old warm white bulb over my desk. I focus much better under the more suitable Hue White Ambiance. The experience is simply too good to go back.
In Conclusion
Philips Hue White isn't bad by any means. In fact, most of the standard light bulbs you buy are warm white and not cool white.
If you have cool white light bulbs from a different manufacturer or simply don't care about color temperatures, you'll be delighted with Philips Hue White.
However, if you want a completely seamless lighting experience that matches every mood, you can't go wrong with Philips Hue White Ambiance. 
If you think they're too expensive, you're not alone.
Here's what you should do: Hue White Ambiance smart bulbs go on sale all the time. Wait for a huge sale, especially on the starter packs, and you'll be practically saving up a fortune on them.