One of the rising technologies of today's day and age is Power over Ethernet, or PoE. That's because this piece of smart equipment is well on its way to replacing WiFi and unstable internet connections.
As a result, brand name manufacturers of smart home devices are starting to implem PoE technology in their products. This leads many smart homeowners to wonder: do Ring and Nest offer power over Ethernet (PoE)? Is it worth it?
Simply put, the Nest store still hasn't begun releasing smart products with PoE technology. However, the store does offer PoE adapters and third-party ones that achieve similar results. On the other hand, Ring has been offering power over Ethernet cameras and doorbells. 
Below, we'll answer the questions most smart homeowners ask when they're considering PoE technology-based products.
What Is Power Over Ethernet (PoE)?
As with any up-and-coming technology, talk of PoE hasn't taken over the smart market's seen yet. Consequently, many consumers wonder just what it is and how it functions.
To begin with, PoE is a wired version of WiFi, essentially, since this technology provides you with a seamless internet connection. Not only that but, using PoE turns your data to electrical power and vice versa. So, that's the reason behind its name: power over Ethernet.
It's also because the technology uses an Ethernet cable to function. In other words, the way that PoE works is through one single cord. This Ethernet network is responsible for the transmission of power and internet data to PoE-powered devices (PDs). 
As a result of being hardwired, a PoE internet connection doesn't lag or experience wireless jams. In addition, to install PoE in your home, you'll need power sourcing equipment (PSE). These devices wirelessly connect PoE technology to your smart products.
What Are the Advantages of PoE?
There are many benefits behind installing a PSE device and upgrading your smart home to a unique wireless experience. Simply because PoE technology grants you multiple advantages that standard WiFi doesn't.
For example, a PoE connection is not just lag-free, but also simple and easy to install onto your devices. PoE devices require only an Ethernet cable and everything else is wireless. Even non-PoE power sourcing equipment will need just the cable and a PoE adapter.
As a result of PoE's intuitive setup, you don't need to bother with electricians or IT guys. This also means that PoE is cost-effective, in addition to it being reliable and fast. 
Plus, PoE-connected devices don't need AC to DC converters or outlets. In other words, PoE technology is eco-friendly since it consumes less power than standard wireless connections. This also reduces installation costs.
Despite PoE's low power usage, the technology can still scale up to 328ft (100m) of your home. In addition, little voltage power reduces electrical hazards as well. Meaning, there are no safety risks in installing your PSE by yourself either. 
PoE needing only Ethernet cables to function is another advantage this technology offers. These cords are inexpensive and highly available in tech stores. Not only that, but this simple fact helps you connect as many devices as you want to your PSE.
A final benefit of PoE is that you don't need to worry about constantly updating the Wi-Fi information on all your smart devices, such as when you change your internet router.
Does Ring offer PoE?
In recent years, Ring stores have started to upgrade their security systems and lights. They've done so by implementing new technologies and improving on their current products.
This is why Ring is among the first in the smart home market to use PoE technology. Their Elite product line supports a PoE connection and includes two devices.
Ring Products That Support PoE
Keeping what we mentioned above in mind, we'll take you through the Ring's Elite line, which includes the Stick Up Cam Elite and the Video Doorbell Elite. Below, you'll find both product's features and advantages.
Ring's Stick Up Cam Elite
This Ring's version for a security camera provides its user with nonstop power due to PoE technology. This is highly convenient, as opposed to the camera's alternative plug-in or battery-powered options.
The technology behind the Ring's Stick Up Cam Elite also allows you a more secure experience. By providing you with a high-res, colored, and 24/7 live feed of your living space, this camera is a definite upgrade from previous ones by Ring.
Since a PoE connection eliminates the inconvenience of WiFi-dead spots and an unstable internet flow, your Cam Elite's motion detection feature is improved. Plus, when connected to your phone, the device alerts you to others' presence outside.
As for its retail price, this Ring product currently sells at $199.99 which makes the Elite Cam a bit pricey when compared to Ring's other smart cameras. But, those alternatives have shorter lives and are more susceptible to lags because they rely on batteries or WiFi. 
Ring's Video Doorbell Elite
For your smart home security, Ring also offers a smart doorbell as part of their Elite product line. This device comes with a pre-installed video camera as well, which lets you see who's knocking at your door.
Similar to the previous model, the Video Doorbell Elite uses a PoE connection too. The technology allows the device to stably monitor your front yard. It also grants you live video and audio access to what's happening in front of your home.
That said, this product retails for $349.99 at Ring stores which makes it another expensive device. When compared to its alternatives, however, other smart doorbells have problems establishing secure connections over WiFi.
Does Google Nest Offer PoE?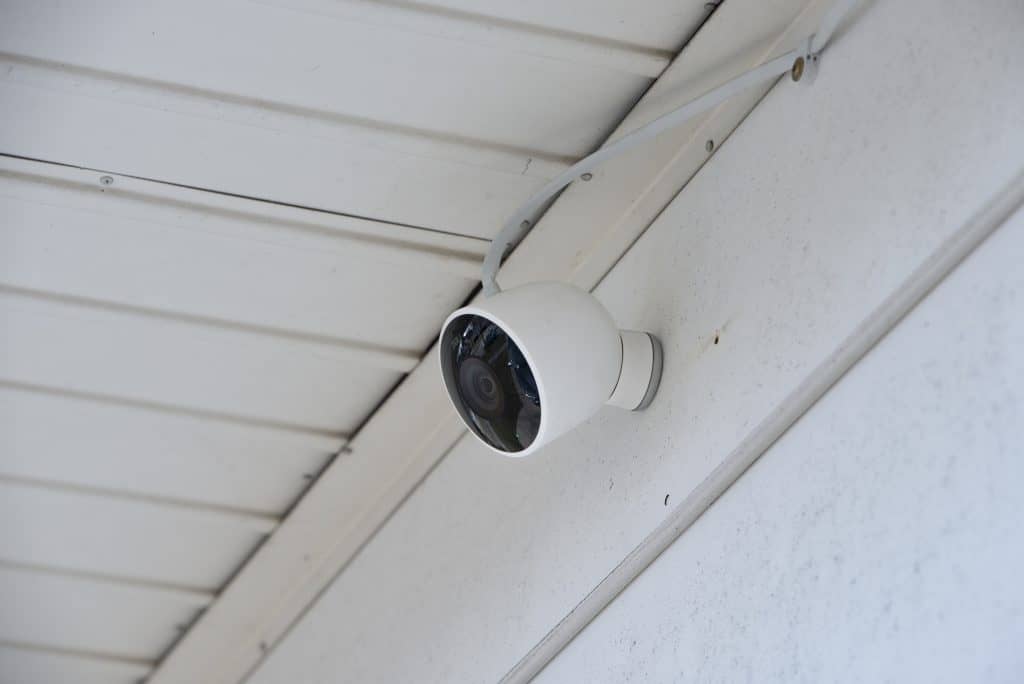 Google has certainly made a name for itself when it comes to designing smart devices and accessories. However, the multibillionaire company is yet to release a product that uses PoE technology.
But, that simple fact hasn't stopped the company from competing in the high-tech market. Many smart homeowners opt for purchasing Nest products due to their reliability.
Can Nest Devices Support PoE?
Not entirely, but there is a way to enjoy some of the benefits PoE has to offer and keep your Nest product. You can do so by purchasing a PoE adapter that you can then connect to any Nest device.
The benefit to doing this lies in providing your Nest cam or doorbell with unlimited power. The adapter is also smaller than a standard Nest one and uses less electricity.
The only downside to connecting your Nest device to a PoE adapter is you won't be getting the secure internet connection that PoE technology offers. Instead, the Nest cam or doorbell will remain connected to the WiFi.  
Is PoE Worth It?
It's worth mentioning again that PoE has many advantages to offer your home. Having gone through them, let's see why it's worth it to upgrade your home with PoE devices.
A Secure Connection
A security system with multiple cameras connected to your WiFi sounds like a nightmare. No matter how fast your internet flow is, you're still bound to experience instability.
This is why upgrading to PoE-powered cameras will have you rest easy. Not only do you not have to worry about replacing batteries, but you also don't need to stress over any of the devices going offline.
Simple Installation
To install a standard non-PoE device, you need to find the right power outlet, along with a strong WiFi connection point. With PoE-powered products, however, these two problems are none of your concern. Plus, as we've said before, they're safe for you to set up alone.
Wrap Up
Do Ring and Nest offer power over Ethernet (PoE)? Is it worth it? Put simply, Ring has the PoE-powered Elite product line that features a PoE camera and a video doorbell. Google Nest, however, hasn't yet released a PoE device.
As for your second concern, investing in PoE can make a difference in your smart home for sure. There are many advantages this recent technology has to offer—all of which don't come at that high of a cost.