It was a revelation the first time we had our home security system set up.
I pranked the mailman, binge-watched uneventful footage of my toddler sleeping, and essentially had security cameras covering every inch of my house. 
Then, my internet went down for a few days, and I became completely and utterly freaked out.
It turns out my Ring devices did much more than just amuse me; they made me feel safe and protected at all times.
I knew I couldn't ever give up that feeling just because my internet was acting up. So, I started looking at mobile hotspot plans if my internet ever goes down again.
If you have a spotty connection like me or are considering traveling abroad with your Ring devices, you need a mobile hotspot to keep your devices connected 24/7.
Here, I'll extensively cover Ring & mobile hotspots and how you can easily set up your Ring devices without needing a wired broadband connection. Let's get started!
Ring & Mobile Hotspots Overview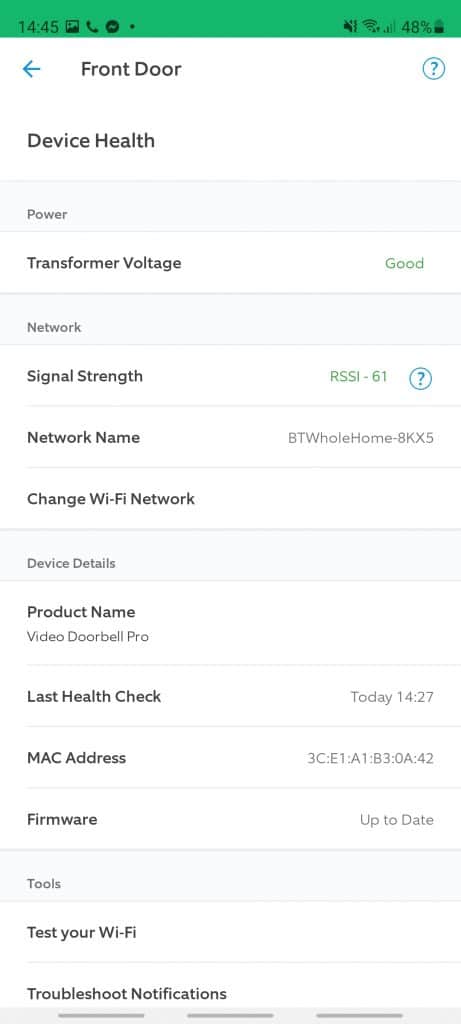 Ring offers a wide range of home security devices like security cameras, video doorbells, and smart lighting.
For the most part, indoor cameras are wired and need to be plugged in for them to work. Outdoor cameras, on the other hand, are usually battery-powered.
Ring also offers the Stick Up Cam Elite powered by ethernet using a PoE adapter. Some devices even work on solar power!
Regardless of where your Ring devices get power from, you'll need an active internet connection for them to work.
In the comfort of your home, this is probably not a big deal. However, you may be wondering why all Ring devices require an active internet connection.
The first reason is quite apparent. An internet connection lets you view a live feed of all the cameras you have set up on the Ring app.
So, whether you're keeping an eye on your toddler or checking to see who's ringing your doorbell, you'll need an internet connection to actively monitor your house.
This begs the question: what if you don't need to monitor your house every passing moment. Can't your Ring devices just store the surveillance videos for you to watch later?
Unfortunately, all your Ring devices store the data on the cloud and not on local storage (with the exception of buying the Ring Alarm Pro and Ring Protect Pro plan, but this is a very expensive way of achieving local storage).
This means that you need an active internet connection to upload all the surveillance on the cloud for you to view later.
Since there's no hard drive built-in to your system, uploading to the cloud is your only option.
Why You May Need A Mobile Hotspot
So, what does all of this have to do with mobile hotspots? 
If for any reason, you don't have an internet connection where your Ring devices are set up, you won't be able to connect your cameras at all.
This is where mobile hotspots come into play! They're essentially portable devices, like your smartphone or a dedicated hotspot MiFi, that broadcast an internet connection to your surroundings.
There are three reasons why you may need a mobile hotspot to connect your Ring devices. 
Your Home Internet Is Unstable
One of the most infuriating things that can happen to you in the 21st century is having no internet connection. 
Virtually, everything that you do requires an internet connection to work. If your internet connection frequently disconnects or you don't have broadband, your home security system is as good as your lawn ornaments. 
You're Traveling Abroad
The second reason you may need a mobile hotspot is if you're traveling abroad and taking your home security system with you.
If the area you're traveling to doesn't have an ISP, you'll need to resort to a stable mobile hotspot to connect your Ring devices.
Remember, mobile hotspot plans abroad are expensive. Make sure you're aware of the roaming packages offered by your service provider. 
Unlimited plans are risky. If you're unlucky, you might end up with a $50,000 phone bill by the end of your trip.
You're Going Off-Grid
The third reason you may need a mobile hotspot is if you're planning on going off-grid. This includes anything from camping trips to moving to a non-residential area.
Going off the grid means no fiber optics, broadband, or WiFi. If you're lucky, you might have a couple of bars on your smartphone, but you won't be able to set up a traditional router like you usually would.
Setting up the Mobile Hotspot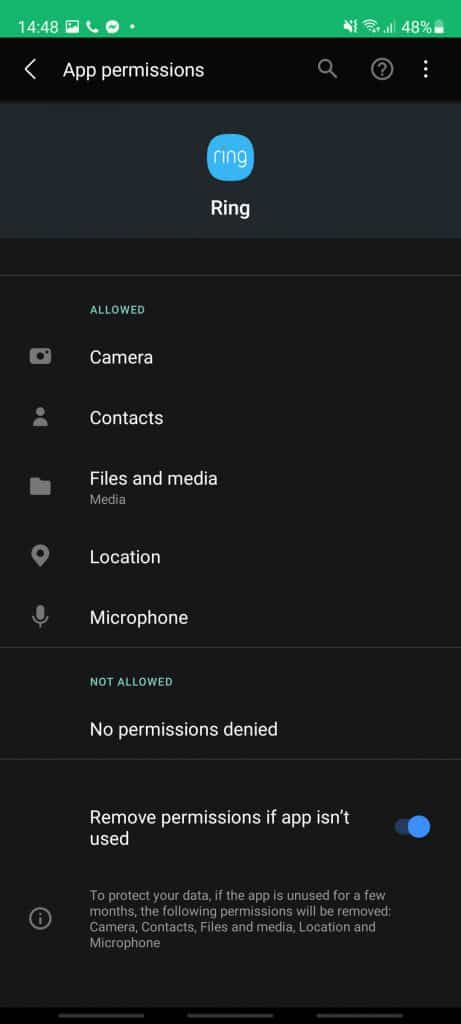 Setting up a mobile hotspot is extremely easy. You can probably do it in under one minute right now. All you need to do is have a smartphone with a data sim card inserted and personal hotspot capabilities.
However, if you're planning on broadcasting your connection over several devices that work 24/7 and upload high-res videos to the cloud, you may want to put more thought into it.
The most important thing you should do is to check your internet quota on your line. A lot of unlimited data plans aren't really unlimited and may throttle (become too slow to work correctly) or start charging your extra after exceeding a specific quota.
Mobile Hotspot Plans
You'll be pleased to know that there are mobile hotspot plans offered by virtually all service providers. From personal experience, Verizon is more reliable, AT&T offers more packages, and Boost Mobile is significantly more affordable.
Check with your service provider to outline the ideal data plan for you. Again, it's better to read the fine print to make sure you're not going to incur any unexpected charges.
What about International Travel?
If you're traveling outside North America, you may want to double-check your roaming plan. 
Most data plans don't carry over outside of the United States, and you may need a separate plan or a travel pass to take your mobile internet with you.
Verizon offers a convenient add-on called Travel Pass. For $10 a day, you can use your domestic mobile data and minutes anywhere across 185 countries without the need to subscribe to an extra package.
You can set up your mobile hotspot on your smartphone or a dedicated hotspot device. Dedicated hotspot devices are obviously better in every way, but some smartphones hold their own better than others.
Androids As Portable Hotspots
If you're broadcasting your mobile internet over an android device, you probably won't run into a lot of connectivity problems.
Androids are simply better than any other OS; they offer more options and drop less often.
For example, if I turn on Personal Hotspot on my Android, it can last me through the whole day without dropping the connection once.
This is due to android generally having better batteries and a more detailed overview of your hotspot connections.
On an Android, you can view all active connections, set the hotspot to never disconnect, and even allocate a specific bandwidth to all outbound connections.
To enable Personal Hotspot on your android device, simply swipe down the quick settings menu from the home screen and click on the personal hotspot icon.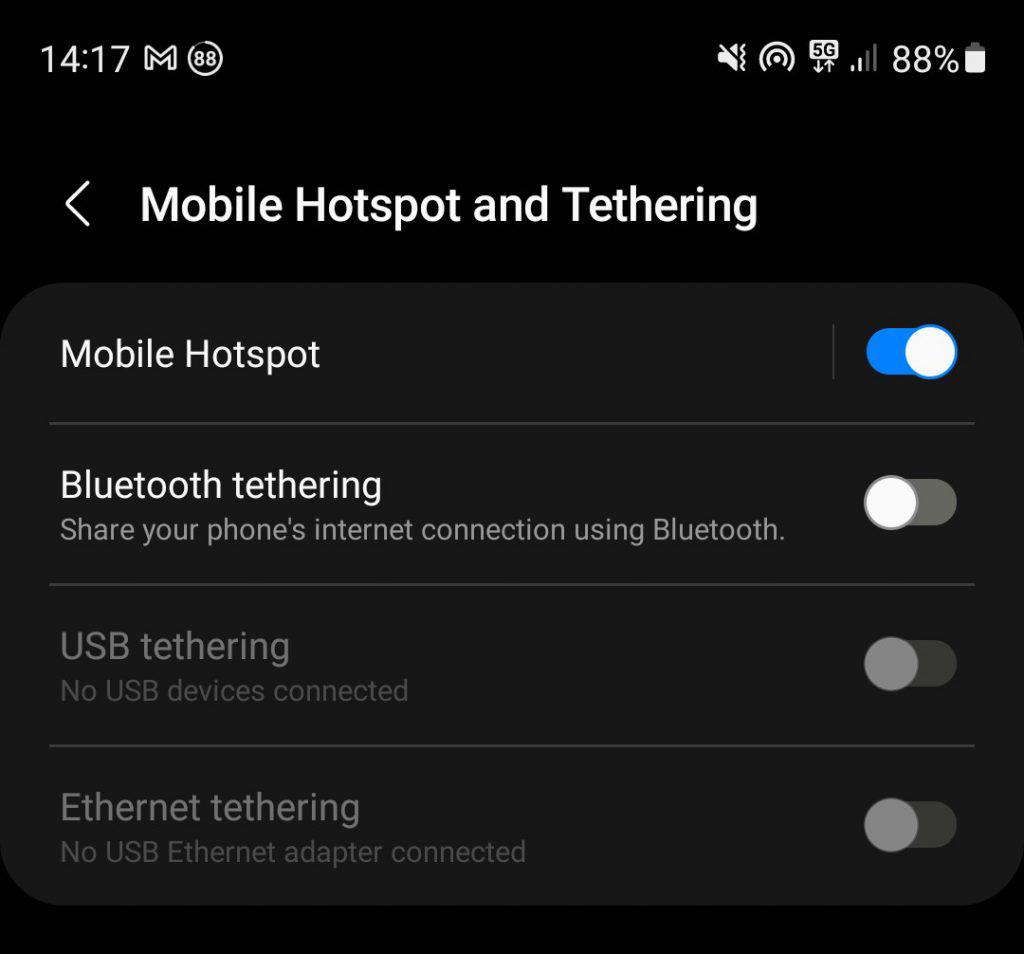 If you long-press the hotspot icon, you'll be directed to the hotspot settings page, where you can set your connection to never turn off on its own, monitor how much data you're consuming daily, and much more.
iPhones As Portable Hotspots
If you own an Apple device, I have some bad news for you.
iPhones are a bit unreliable when it comes to maintaining a stable hotspot connection.
There's no dedicated page for adjusting the settings, and you can't even see who's connected to your network or how much data you're consuming.
To make it worse, the iPhone usually drains extremely fast when the personal hotspot is turned on.
Your hotspot may also frequently disconnect for no apparent reason. iPhones are simply not built to broadcast an internet connection for prolonged periods.
You can enable the personal hotspot on your iPhone by navigating to the settings, choosing "Personal Hotspot," and turning it on.
Dedicated Mobile Hotspot Devices
If you're on the move a lot and can spare a couple of hundred bucks, you can't go wrong with a dedicated hotspot device.
Devices like Nighthawk by AT&T or Jetpack MiFi 8800L by Verizon can give you a broadband-like experience. Fast and stable connections with no unexpected disconnections. What more can you ask for?
Connecting Your Ring Devices to a Mobile Hotspot
Once you have your mobile hotspot set up, all you need to do now is connect your devices to the new network.
To do so, go to the Ring app and navigate to "Device Health." Then, choose "Change WiFi Network" and select your new hotspot connection. Enter the password, and voila! Your ring devices are now online.
In Conclusion
Who says you need broadband for your Ring devices to work? If you're planning on traveling soon or simply don't have a stable broadband connection, you can use a mobile hotspot to connect your home security system.
You don't even need a dedicated hotspot device to set your devices up! All you need is an Android device (or, god forbid, an iPhone), an unlimited data plan, and an acceptable network signal.